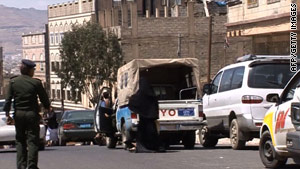 The scene of Wednesday's attack in Sanaa.
STORY HIGHLIGHTS
Torlot: The car was probably attacked because it was a diplomatic vehicle
The staffer wounded in the attack is recovering in a hospital
The attack was one of two on foreign interests in Sanaa on Wednesday
(CNN) -- The British ambassador to Yemen said Thursday the embassy car attacked in Sanaa a day earlier was probably targeted because it was a diplomatic vehicle.
The attack Wednesday wounded an embassy staffer inside the car and left at least two bystanders hurt.
Tim Torlot told BBC radio's "Today" program it's "impossible to say" whether the car was attacked because it was British, but it may have been recognized as belonging to diplomats.
"A number of diplomatic vehicles pass along the road where we were driving yesterday on their way to work," Torlot said. "They tend to be American and British diplomats because of where our embassies are. But it's impossible to say at this stage."
Torlot's wounded colleague is now in a Sanaa hospital with blast injuries on his side and back and damage to his ear, he said. The staff member was expected to recover and leave hospital later Thursday, he said.
British Foreign Secretary William Hague, the Yemeni Embassy in Washington, and the U.S. Embassy in Yemen all condemned the attack.
Eyewitnesses and security officials at the scene of the attack said they believed it was a rocket attack, based on rocket fragments they saw at the scene. The vehicle had been on its way to the embassy when it was attacked, the British Foreign Office said.
The attack was one of two that hit foreign interests in Sanaa on Wednesday. The other took place at the local office of the Austrian oil and gas company OMV, when a security guard opened fire.
A French national who worked for the company was shot and killed, OMV and the French Ministry of Foreign Affairs said.
The gunman was apprehended and police were investigating, the company said.
OMV said it has been active since 2003 in Yemen, a country it says is a core part of its operations in the Middle East. It said it has high travel restrictions in place for employees there.
U.S. Undersecretary of State William Burns, who was in Sanaa on Wednesday for meetings with the Yemeni president, foreign minister, and politicians, spoke of the challenges Yemen faces in fighting al Qaeda.
"We believe that the challenge that's posed by terrorists and violent extremists in Yemen is a very real one," Burns said. "We strongly support the efforts of Yemen and its security forces to deal with that challenge and we believe that the capabilities of the Yemeni security forces are increasing steadily. It's in the interest of Yemen, of the United States and of the international community for Yemen to succeed in this effort, and that's why Yemen can count on our continuing support."
Torlot himself survived an apparent suicide bomb attack on his convoy in Sanaa in April. No embassy staff were hurt, but the alleged suicide bomber was killed.
He told the BBC there is an "increasing" threat in Yemen, where al Qaeda has built a base from which they have mounted serious attacks.
"We're not talking about anything on the same scale as Afghanistan or Pakistan yet, and obviously all our efforts are going into ensuring that that doesn't happen," he said. "But in the first instance it has to be the government of Yemen which is at the forefront of tackling it."
In December 2009, Yemen's offshoot al Qaeda element grabbed the attention of the West with the attempted bombing of a Northwest Airlines trans-Atlantic flight headed for Detroit, Michigan, on Christmas Day. The suspect, Umar Farouk AbdulMutallab, who has pleaded not guilty to six federal terrorism charges, was allegedly trained and armed in Yemen by radical U.S.-born cleric Anwar Al-Awlaki.
Suspected Islamic insurgents disguised as Yemeni forces attacked the U.S. Embassy in Sanaa in September 2008, killing 10 Yemeni police and civilians, U.S. and Yemeni officials said.
Yemen dispatched paramilitary forces to the southern province of Shabwa last week following an ambush on the local governor by suspected al Qaeda militants, a government official said.
A day earlier, attackers struck the motorcade of the provincial governor with gunfire and rocket-propelled grenades. The governor was not hurt, but a member of his security detail was killed and nine others wounded.
The attack came a week after another Yemeni military offensive against militants in Hawta province. During that offensive, investigators found documents describing plots designed by al Qaeda leaders in Hawta, Yemen's news agency, Saba, reported. The plots reportedly called for the targeting of senior military and security figures, foreigners, and local and foreign interests in and around the province.
FOLLOW THIS TOPIC