Israeli high court OKs Nobel laureate's deportation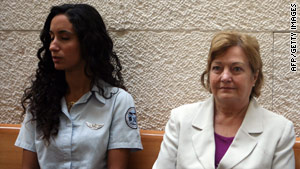 Nobel Peace Prize winner Mairead Maguire, right, appears at the Israel Supreme Court on Monday.
STORY HIGHLIGHTS
NEW: Fellow Nobel laureate Jody Williams defends Mairead Maguire
Israel objected to Maguire's participation in a Gaza-bound flotilla
Maguire won the Nobel Peace Prize in 1976 for her work in Northern Ireland
Jerusalem (CNN) -- The Israeli Supreme Court has upheld the deportation of Nobel Peace Prize winner Mairead Maguire, who had tried to visit Israel and the Palestinian territories last week, a spokeswoman for the Israeli judiciary said Monday.
Maguire, of Ireland, was held at Ben-Gurion International Airport's detention facility while she appealed Israel's refusal to allow her into the country. She landed there Tuesday with a delegation of other high-level women's rights activists from around the world, the Israeli Foreign Ministry said, but was denied entry because of her participation in efforts to run the Israeli blockade of the Palestinian territory of Gaza, the Israeli Foreign Ministry said.
"Mairead Maguire is one of the most nonviolent people I know," said Jody Williams, a fellow Nobel laureate who attended the hearing at the high court. "In fact, we often have sharp words with each other because she is so nonviolent, and I am a tad more passionate."
Williams, who won the 1997 Nobel Peace Prize for her work to ban land mines, and Maguire are co-founders of the Women's Peace Initiative. Williams was also part of the delegation of women's rights activists that traveled to the Mideast.
Maguire was awarded the Nobel Peace Prize in 1976 for her efforts to end sectarian violence in Northern Ireland. The delegation planned to travel to Jerusalem, Haifa, Nazareth, Ramallah, Hebron and Bil'in to learn from and highlight the work of female peace builders.
"There will be peace in this country, I believe it, but only when Israel ends apartheid and the ethnic cleansing of the Palestinian people," Maguire told reporters before Monday's hearing.
Maguire was aboard the MV Rachel Corrie, an Irish cargo ship that set sail for Gaza in June despite the Israeli blockade. The Israeli navy seized the ship before it reached Palestinian-controlled Gaza, and its passengers were deported. Those aboard the Rachel Corrie say the ship was seized in international waters, but Israel says it took the ship in Israeli territory and told those aboard they would not be allowed to return to Israel.
"She does not believe she has done anything wrong," Williams said. "When she was on the Rachel Corrie with the flotilla, it was attacked in international waters. She was dragged to Israel, and then they say she can't come back to Israel. It was not her intention to end up there in the first place."
The Rachel Corrie's mission came just five days after Israeli commandos raided a similar flotilla in an incident that left nine passengers aboard the Turkish-flagged vessel Mavi Marmara dead.
CNN's Michal Zippori contributed to this report.
FOLLOW THIS TOPIC