Iraqi oil reserves estimated at 143B barrels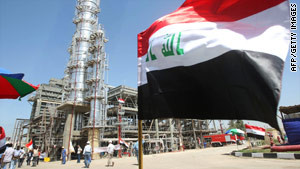 The Iraqi flag flutters during the opening of the Al-Dora refinery complex in Baghdad last month.
STORY HIGHLIGHTS
New estimates could add trillions to Iraqi economy
Reserves could total 143.1 billion barrels
(CNN) -- Iraq's estimated oil reserves have grown by nearly 25 percent, the oil ministry announced Monday.
"Iraq's oil reserves which are extractable are 143.1 billion barrels," said Hussein al-Shahristani, Iraq's oil minister, based on data provided by Organization of Petroleum Exporting Countries.
The OPEC figures are about 28 billion barrels higher than previous estimates.
At $81 a barrel, about what oil was trading at early Monday, the added reserves would be worth about $2.27 trillion.
About 70 percent of all reserves are concentrated in Iraq's southern oil fields, with 20 percent in the north and 9 percent in the country's center.