Without a chair at the table, Iran seeks influence nonetheless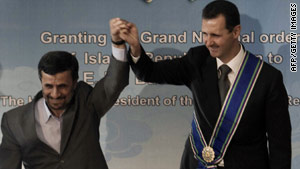 Syrian President Bashar al-Assad (right) met Iranian counterpart Mahmoud Ahmadinejad in Tehran.
STORY HIGHLIGHTS
Iranian President Mahmoud Ahmadinejad is scheduled to visit Lebanon on October 13
Some see the visit as an unwelcome display of influence in peace talks
Israelis and Palestinians recently started another round of peace talks
Ahmadinejad has also met with the president of Syria
(CNN) -- Iran's leadership has made clear its intent to play an enhanced role in Mideast regional affairs amid troubled peace talks between Israel and the Palestinian Authority, as indicated by a series of high-level visits with regional allies.
Iranian President Mahmoud Ahmadinejad is expected to make his first official visit to Lebanon since assuming office in 2005, according to Iranian state media. The visit is scheduled to begin October 13.
On Saturday, Syrian President Bashar al-Assad made a one-day official visit to the Iranian capital of Tehran, where he met with Ahmadinejad and Iranian Supreme Leader Ayatollah Ali Khamenei. Saturday's visit marked the Syrian leader's eighth visit to Iran, and his fifth during Ahmadinejad's presidency, said Iran's Fars News Agency.
In a meeting with Assad on Saturday, Ahmadinejad said, "The current regional situation is changing in favor of regional nations," according to Iran's Press TV. Ahmadinejad also awarded his Syrian counterpart with Iran's highest national medal "for his resistance against arrogant powers, defense of the rights of the Palestinian and Lebanese nations, and his key role in the stability and tranquility of regional countries," according to Press TV.
In a separate meeting of the two nations' foreign ministers, Iran's Manouchehr Mottaki and Syria's Walid al-Muallem signed a free trade agreement, Iran's state media reported.
Military links have been at the fore of Iranian state media coverage of recent and upcoming talks between Iran and Lebanese leaders. During the recent U.N. General Assembly meetings, where Ahmadinejad met with Lebanese President Michel Suleiman, Fars reported that "Zionists' plots and conspiracies for sowing discord ... have necessitated an increase in cooperation and coordination between Iran and Lebanon."
On the same day, Fars reported Hezbollah leader Hassan Nasrallah as saying, "Lebanon must ask for help from countries that are willing to sell arms to Beirut without any conditions," apparently referencing a recent move by the U.S. Congress to withhold $100 million of military aid for Lebanon after a border clash between Israel and Lebanon.
One week later, Lebanese Energy Minister Gebran Bassil said "Iran has now announced readiness to equip [the] Lebanese army without any conditions," according to the Iranian state-run Islamic Republic News Agency.
IRNA also reported "expressed hope" from Lebanese politician Wiam Wahab that the timing of Ahmadinejad's visit to Lebanon would "encourage the regional countries to support the resistance against the Zionist regime, especially at the present time when the Palestinian Authority and Israel were going back to direct talks."
Some have seen Ahmadinejad's planned visit as an unwelcome display of Iranian influence in the peace talks.
Lebanon's National News Agency quoted Fares Souaid, the secretary-general of Lebanon's March 14 alliance, as saying the Iranian president's visit sends "a message that means to say that Iran is at the border of Israel! ... While the Palestinians and Israelis are negotiating, the Iranian president wants to stress that Lebanon is a land where resistance is exercised and war against Israel is possible. He wants to remind the international community that Israel's security is in the hands of Iran through its relations with Hamas and Hezbollah -- and hence, he says to the world, you must negotiate with us."
CNN's Amir Ahmed contributed to this report.
FOLLOW THIS TOPIC