EU urges Israel to reinstate settlement freeze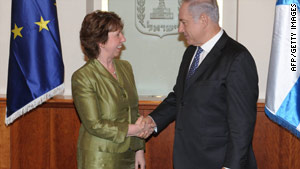 EU foreign affairs chief Catherine Ashton met Israeli PM Benjamin Netanyahu on Friday.
STORY HIGHLIGHTS
EU foreign policy leader is in the Mideast
She holds meetings with Israelis and Palestinians
George Mitchell is trying to keep direct talks alive
Jerusalem (CNN) -- The European Union foreign policy chief said she urged Israel to reinstate its settlement moratorium and is disappointed that they have not yet done so.
An Israeli settlement freeze expired on Sunday, sparking concern that the controversial issue could become a sticking point that would stall face-to-face talks between Palestinians and Israelis, which resumed last month after an 18-month hiatus.
Catherine Ashton said she had a "positive and constructive dialogue" with U.S. Mideast envoy George Mitchell and Israeli and Palestinian leaders. The EU is one of the entities in the Middle East quartet.
"Those of us engaged in the process have been very concerned that the ending of the moratorium puts at risk the possibility of long-term peace. I have urged Israel to continue the moratorium in order to allow the talks more time to make progress. I regret that so far they have chosen not to," she said.
The EU, noting it is the "biggest donor and partner" of the Palestinian Authority, has been working with the United States, the United Nations, and Russia in the quartet -- in an effort to bring peace to the region.
The Palestinian Authority discussed their work "to build the machinery for statehood" and said progress is being made, said Ashton.
"Palestinian statehood is critical for any peaceful, workable and lasting solution. Political and financial support from the international community is essential. I urge those who have made financial commitments to deliver on their promises."
Ashton also mentioned the issue of Gaza, the Palestinian territory run by Hamas and tightly monitored by Israel.
"Gaza is never far from my mind, having visited twice this year, and I continue to call for the crossings to be opened to enable trade -- especially the chance for businesses to export. My discussions with the Palestinian Authority have also focused on how we can support exports to allow the people of Gaza to gain a greater stake in their economy and their future."
She also met with Israeli Prime Minister Benjamin Netanyahu, Palestinian President Mahmoud Abbas, and Palestinian Prime Minister Salam Fayyad.
"We will continue to offer whatever support we can so the talks continue and a comprehensive and sustainable solution is found, with the state of Israel and the state of Palestine living side by side in peace and security."
Palestinian officials previously said that if building resumes on territory they consider part of a future Palestinian state, they will walk away from the negotiations.
There have been news reports that U.S. and Palestinian negotiators are trying to persuade Israel to extend the freeze at least for another two months. Mitchell, the former Maine senator and prominent American diplomat, has been visiting the region as part of a U.S. diplomatic push to help keep face-to-face peace talks on track.
FOLLOW THIS TOPIC