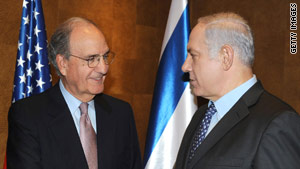 Prime Minister Benjamin Netanyahu, right, told U.S. envoy George Mitchell he is committed to peace.
STORY HIGHLIGHTS
Mitchell says the U.S. is not deterred despite "a road with many bumps"
Netanyahu does not say whether the settlement building issue came up
NEW: EU official traveling to Middle East
Jerusalem (CNN) -- Israeli Prime Minister Benjamin Netanyahu told the U.S. special Mideast envoy Wednesday that he is committed to reaching a peace agreement with Palestinians, according to a statement released by Netanyahu's office.
"There are many doubts and obstacles on the road to peace. Everyone understands that, but there is only one way to assure that we don't reach peace, and that is if we don't try and achieve peace," Netanyahu said. "I am committed and the government is committed to reaching a peace deal."
The statement from Netanyahu's office did not specify whether the end of Israel's 10-month settlement construction moratorium in the West Bank had come up in his conversation with George Mitchell, special Mideast envoy for the United States.
Mitchell is visiting the region as part of a diplomatic push to help keep face-to-face peace talks between Israelis and Palestinians on track.
The building freeze's Sunday expiration has sparked concern that the controversial issue could become a sticking point that would stall face-to-face talks between Palestinians and Israelis, which resumed earlier this month after an 18-month hiatus.
Before their meeting, Mitchell told Netanyahu that the Obama administration remains "totally committed to comprehensive peace" despite challenges. He did not mention the settlement issue, but acknowledged the "complexities" in the talks.
"We knew this would be a road with many bumps -- and there have been many bumps -- and that continues to this day. But we are not deterred," said Mitchell, who plans to sit down with Palestinian leaders on Thursday in the West Bank city of Ramallah.
The U.S. Embassy in Israel provided Mitchell's remarks in a transcript of brief comments from the envoy and Netanyahu.
Catherine Ashton, the European Union foreign policy representative, said she will be traveling to the Middle East on Thursday to bolster the EU's support "for direct talks to continue between Israel and Palestine after the Israeli decision not to extend the moratorium on settlements."
"The EU regrets the Israeli decision not to extend the moratorium on settlements. During my visit I will reiterate the call for both parties to act responsibly and choose the path of peace," said Ashton, who plans to meet with Netanyahu, Mitchell, and Palestinian President Mahmoud Abbas.

Video: Everything 'relative' in talks
On Tuesday U.S. State Department spokesman P.J. Crowley said the end of the settlement moratorium -- and what happens next -- would be key topics of conversation during Mitchell's trip.
"We want the Palestinians to stay in the direct negotiations, and we want the Israelis to demonstrate that it is in the Palestinian interest to stay in these negotiations," he said. "And obviously, on the other side of the coin, the moratorium has expired and it is important for both the United States and the Palestinians and others to understand what the Israeli policy is going to be."
"We're in an intense period of time, where we need to find a way to help both sides resolve the immediate situation and continue in the negotiations, and that will be what George Mitchell is working with both sides on this week," Crowley said Tuesday.
Netanyahu said Tuesday that he would meet with Abbas in Paris, France, next month at French President Nicolas Sarkozy's invitation.
"I believe with my whole heart that it is in our power to reach a framework agreement within a year and change the history of the Middle East," he said.
On Tuesday, Abbas told French radio station Europe 1 that he was "worried" about negotiations.
"Of course I am worried -- the reason being that I see the peace process being stalled," he said. "It is a historic opportunity for the Palestinian people and the Israeli people. If we let slip this opportunity, I don't know if we will ever have a chance like this again."
Palestinian officials have previously said that if building resumes on territory they consider part of a future Palestinian state, they will walk away from the negotiations.
On Monday, Abbas called on Israel to extend the moratorium for three or four months while talks continue.
"If the colonization stops, we will continue negotiations. If it doesn't, we will stop talks," Abbas told Europe 1.
Yet Abbas has not yet pulled out, indicating that he wants to discuss the issue first with his Fatah party and the Arab League, which is meeting next week.
Mitchell is scheduled to meet with Palestinian leaders on Thursday, Crowley said.
While the moratorium issue is controversial, Crowley said it did not come as a surprise to negotiators, who knew it was scheduled to end Sunday.
"These are highly complex issues. We knew that going in. We understood what was confronting us immediately on the calendar," he said. "We're aggressively trying to work through this situation, but we're also keeping both sides focused on the long-term goal."
CNN's Shira Medding contributed to this report.
FOLLOW THIS TOPIC