Oman seeks release of U.S. hikers still jailed in Iran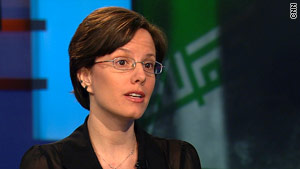 Sarah Shourd was freed from an Iranian prison September 14 after Omani officials posted bail.
STORY HIGHLIGHTS
The State Department says it's "grateful" for Omani help
Hikers Josh Fattal and Shane Bauer remain held in Tehran
Bauer's fiancee, Sarah Shourd, was released September 14
Shourd met with Iran's president in New York last weekend
(CNN) -- A delegation from the Persian Gulf state of Oman is in Iran to seek the release of two American hikers jailed there for more than a year, the U.S. State Department said Tuesday.
"The Omanis pledged to continue to help with the release of the two hikers, and we're very grateful for their efforts," State Department spokesman P.J. Crowley said.
He said U.S. officials are staying in "close touch" with the Omanis and with the Swiss Embassy in Tehran, which represents U.S. interests in Iran, but referred questions about the details to Oman's government.
Hikers Josh Fattal, Shane Bauer and Sarah Shourd were arrested after straying across the unmarked border separating Iran from Iraq's Kurdistan region in July 2009. Shourd was released on humanitarian grounds September 14 after Omani authorities posted $500,000 bail, but Bauer and Fattal remain in Tehran's notorious Evin Prison on accusations of spying.
Iran's Foreign Ministry downplayed the Omani visit, according to remarks on the ministry's website.
"Many delegations come to Iran from many countries, and Iranian delegations visit other countries as well," ministry spokesman Ramin Mehmanparast said. "These visits are signs of friendly relations between countries."
Shourd met with Iranian President Mahmoud Ahmadinejad on Saturday while the Iranian leader was in New York to attend the United Nations. She told CNN's "American Morning" that she wanted to make a personal appeal for the freedom of Fattal and Bauer, her fiance.
"I have no animosity towards him or the government," she said. "I want it to be resolved. I want it to be finished."
FOLLOW THIS TOPIC