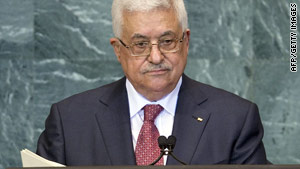 Palestinian leader Mahmoud Abbas says conflicts over borders, security and prisoners also need to be resolved.
STORY HIGHLIGHTS
NEW: Palestinian leader meets with U.S. special envoy
Diplomats scrambling over settlement moratorium issue
U.S. wants to keep both Israelis, Palestinians from leaving talks
Abbas says Israel must choose peace or settlement construction
New York (CNN) -- The clock is ticking as the United States seeks a way to keep Middle East peace talks from falling apart over this weekend's end to an Israeli moratorium on settlement construction.
The issue of settlement construction is highly controversial, and the Palestinians have said a restart by the Israelis would be reason enough to end talks.
"Israel must choose between peace and the continuation of settlements," Palestinian Authority President Mahmoud Abbas told the U.N. General Assembly on Saturday at its annual debate.
"Restoring the credibility of the peace process mainly requires compelling the government of Israel to comply with its obligations and commitments, particularly to cease all settlement activities in the occupied Palestinian territory especially in and around East Jerusalem," he said.
Blog: iPhone app tracks settlement activity in Israel
Jonathan Peled, spokesman for the Israeli embassy in Washington, said Saturday that "Israel believes negotiations should be conducted without preconditions and that direct talks should continue despite the differences between the two sides."
"The negotiations should be as much in the Palestinians' interests as in Israeli and American interests," Peled said.
American officials are mediating what they describe as "intense negotiations" between Israelis and Palestinians. Two senior State Department officials said Abbas met Saturday with George Mitchell, the U.S. special envoy to the region.
"Settlements are an important issue to both sides, but the only way to resolve this and other core issues is through direct negotiations," U.S. State Department spokesman P.J. Crowley said Saturday. "We hope the parties will make the right decision to keep the talks moving forward."
U.S. Secretary of State Hillary Clinton added a late-day meeting with Abbas Friday night, urging him not to abandon the talks.
Assistant Secretary Jeffrey Feltman, the U.S. State Department's top official on the Middle East, said the "U.S. was urging both sides to create the atmosphere that is most conducive to reaching a successful conclusion for negotiation and for both sides to take the negotiation process seriously."
"We're very aware of the deadline," he added. "We are urging Israel to extend the moratorium ... and we also are making clear to the Palestinians that we do not believe that it is in their interest to walk out of the talks."
Feltman's unusually candid comments suggested a U.S. frustration and impatience with both sides' inability to compromise, as Sunday's deadline approaches.
"We don't think either side should be using the threat to walk out to interrupt a process that has the promise of bringing Israel security and bringing the Palestinians a state," Feltman said.
The United States has been working to overcome the seeming impasse, angling for a way to prevent new construction in a way that would give the Israelis a position that does not appear to be caving, which would be untenable politically back in Israel.
Various scenarios have been suggested to both sides but seem to lose momentum as quickly as they are considered.
A compromise that various officials told CNN had promise Friday morning -- allowing the moratorium to be lifted but requiring all settlers planning on construction to resubmit for new licenses, thereby forestalling construction for a few more months -- is no longer considered viable to the Israelis.
Another idea under consideration Friday afternoon, according to a diplomatic source, is for Israel to continue the moratorium but allow limited construction.
On Friday, officials were cautiously optimistic that a formula could be found. One official noted that while Israel wasn't tipping its hand as to what it would do, its government was pushing back the date of the expiration of the freeze -- from the middle of the weekend until the end of Sunday -- which suggested a compromise was in the works.
"What I sense is that the Israeli and Palestinian delegations are looking for ways to make sure the talks continue beyond Sunday," Feltman said.
Earlier in the day, Israeli sources said Prime Minister Benjamin Netanyahu wanted concrete assurances that Abbas would stay at the table without making the demand for an absolute halt to construction a condition to do so.
In recent days, Netanyahu has spoken to Vice President Joe Biden, Secretary of State Hillary Clinton and former British Prime Minster Tony Blair about working out a compromise, an Israeli government source said.
But on Saturday, American officials said there was still no traction on any proposal and the game of chicken between the parties would go down to the wire.
"We really don't know how this is going to do down," one senior official said. "We still don't know what either side can ultimately live with."
In his speech, Abbas addressed a range of final status issues, not just settlements. He mentioned the importance of solving disagreements over Jerusalem, settlements, borders, water, security and the release of all prisoners and detainees. He also mentioned ending the Israeli siege of Gaza.
"Our demands for the cessation of settlement activities, the lifting of the siege and an end to all other illegal Israeli policies and practices do not constitute arbitrary pre-conditions in the peace process, but are consistent with the implementation of obligations and previous commitments, compliance with which has been repeatedly reaffirmed in all resolutions adopted since the very start of the political process."
FOLLOW THIS TOPIC