STORY HIGHLIGHTS
Defense official tells CNN Yemen will never become a safe haven for terrorists
Human rights groups urge protection for those displaced by the fighting
A U.S. counterterrorism official affirmed military support for Yemen
Sanaa, Yemen (CNN) -- Yemeni forces have laid siege to a southern town believed to be a militant stronghold in what amounts to an intensified effort to combat terrorism, a senior defense official said Thursday.
Human rights groups, meanwhile, have voiced concerns about thousands of people displaced in the escalation of fighting.
In an exclusive interview with CNN, Rashad al-Alimi, Yemen's deputy prime minister for defense and security, said Yemeni forces have surrounded the village of Hawta in southern Shabwa province, a stronghold for the offshoot terrorist group al Qaeda in the Arabian Peninsula.
Yemeni forces are also tracking the movements of U.S. citizen Anwar al-Awlaki, a Muslim cleric who is one of the leaders of al Qaeda in the Arabian Peninsula. He is believed to be holed up in the Rafad Valley of Shabwa.
Al-Alimi said security forces have surrounded that area, where they have launched previous offensives against al Qaeda elements.
He said the militants have attempted to use local residents as human shields, but Yemen is determined to wipe out extreme elements.
"The government is insisting on finding these terrorists and bringing them to justice, because we will never allow Yemen to be a safe haven for al Qaeda," al-Alimi said.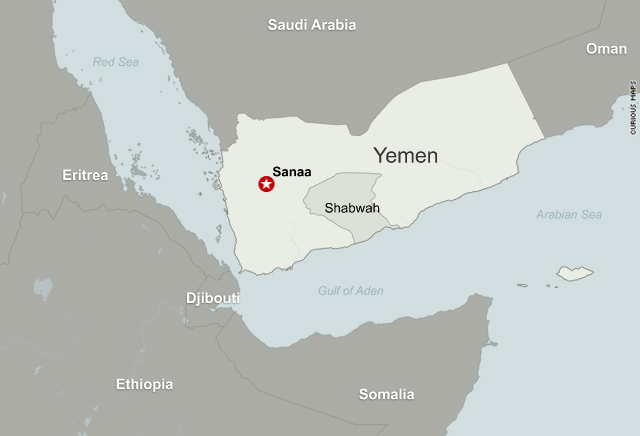 Yemen's restive province
Human rights groups warned that the military offensive had displaced thousands of people.
The Yemen Red Crescent Society estimated that 12,000 local residents have fled their homes in Shabwa province. And Amnesty International urged officials to take urgent measures to protect citizens.
"The Yemeni authorities must ensure as a matter of urgency that what amounts to a shocking number of people displaced in the space of a few days are adequately provided for," said Philip Luther, Amnesty International's deputy director for the Middle East and North Africa.
Under no circumstance will we stop our hunting for them -- just because they've hidden out in a populated area.
--Rashad al-Alimi
"The authorities have a duty to ensure public safety and must immediately fulfil the needs of the displaced in terms of food, water, shelter and medical care, particularly for those who may have been injured during their escape," he said in a statement.
Yemen's offshoot al Qaeda element grabbed the attention of the West with the attempted bombing of a Northwest Airlines trans-Atlantic flight as it landed in Detroit, Michigan, on December 25.
The suspect, Umar Farouk AbdulMutallab, who has pleaded not guilty to six federal terrorism charges, was reportedly trained and armed in Yemen by al-Awlaki.
Al-Alimi downplayed al-Awlaki's role in al Qaeda, saying the group had other leaders who were high on Yemen's list of targets. He said the terrorist group had recently broadened its reach and spread out to more populated areas.
"Under no circumstance will we stop our hunting for them -- just because they've hidden out in a populated area," Al-Alimi said.
Yemen, he said, was coordinating with its global allies in combating terrorism.
"Al Qaeda is not just a local organization. Terrorism is an international issue, not simply a local one," he said. "So it's important for us, first to cooperate and exchange information and coordinate with the international community."
He said Yemen was looking for logistical support in counterterrorism and funding from the United States but reiterated that no U.S. forces were fighting on Yemeni soil.
"We stress there is no military presence, either American or British, that are conducting military raids in Yemen," al-Alimi said. "There are trainers present from the U.S. and from Britain and even from other countries. ... This is not new. This started after September 11."
The Obama administration has stepped up its attention on Yemen. The president's counterterrorism adviser, John Brennan, affirmed U.S. military support this week with Yemeni President Ali Abdullah Saleh, the U.S. Embassy said.
A counterterrorism official said the administration recognizes that "not enough is being done in Yemen" to meet the growing challenge posed by al Qaeda in the Arabian Peninsula.
"We need to scale up efforts to disrupt the group," said the official, who spoke about sensitive issues on the condition of anonymity.
The official said that conditions in Yemen have allowed al Qaeda to regroup there and that all options to fight the Arabian Peninsula group are under review at the White House. That includes adding armed CIA drones to the fight.
FOLLOW THIS TOPIC