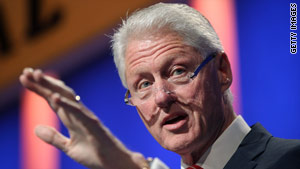 Former U.S. President Bill Clinton speaks at the annual Clinton Global Initiative in New York on Tuesday.
STORY HIGHLIGHTS
The former president said Israelis with a Russian background pose a problem
He says Russians are among "the hardest-core people against a division of the land"
Prime Minister Netanyahu says Russian immigrants have strengthened the IDF
Jerusalem (CNN) -- Suggesting that Russian immigrants in Israel pose an obstacle to a peace deal between Israelis and Palestinians, former U.S. President Bill Clinton stepped into the mire of Middle Eastern politics this week, prompting a wave of criticism from Israeli politicians.
Clinton, speaking at a panel discussion of his Clinton Global Initiative on Tuesday, told audience members: "An increasing number of the young people in the IDF [Israel Defense Forces] are the children of Russians and settlers, the hardest-core people against a division of the land. This presents a staggering problem. It's a different Israel. Sixteen percent of Israelis speak Russian."
Blog: Clinton steps into the mire
Referring to the more than 1 million Russian immigrants who have come to the Jewish state since 1989, Clinton said, "They've just got there, it's their country, they've made a commitment to the future there. ... They can't imagine any historical or other claims that would justify dividing it."
The controversial comments, first reported by Foreign Policy magazine, come as the Obama administration, led by Secretary of State Hillary Clinton, mediates high-stakes direct talks between Israelis and Palestinians in an attempt to reach a historic peace agreement in the coming year.
In Israel, reaction to Bill Clinton's remarks has been extremely critical.
Israeli Prime Minister Benjamin Netanyahu expressed "regret" about the comments late Wednesday and said, "As a friend of Israel, Bill Clinton definitely knows that the immigrants from the former Soviet Union have contributed a great deal to the advancement, development and strengthening of the IDF and the state of Israel."
CNN was unable to reach representatives from Bill Clinton's office via phone or e-mail for comment.
In his comments, Clinton recalled a 2000 conversation he had with then-Israeli Cabinet Minister and former Soviet dissident Natan Sharansky in which he asked why Sharansky could not support the Camp David peace proposal he helped broker. Sharansky's response, according to Clinton, was, "I can't vote for this, I'm Russian. ... I come from one of the biggest countries in the world to one of the smallest. You want me to cut it in half. No, thank you."
Clinton went on to say that Sharansky "was nice about it; a lot of them aren't," referring to Russian immigrants' attitudes toward land-for-peace proposals.
In a statement to Israeli newspaper Haaretz, Sharansky denied ever making such comments to Clinton and added, "I am particularly disappointed by the president's casual use of inappropriate stereotypes about Israelis, dividing their views on peace based on ethnic origins. I must add that these are uncharacteristic comments from a man who has always been a sensitive and thoughtful listener and conversation partner."
Israel's nationalist political party Yisrael Beiteinu, headed by Israeli Foreign Minister and Soviet Union-born Avigdor Lieberman, also condemned Clinton's comments, accusing the former president of "meddling in the internal affairs of another country" and scolding that he "forgot who turned down his far-reaching offer which demanded painful concessions from Israel's side. It was, in fact, the chairman of the Palestinian Authority, Yasser Arafat"
In an interview with CNN this week, Clinton expressed his optimism that a negotiated settlement between Israelis and Palestinians can be reached, calling a deal "imminently doable," but saying the Palestinians made a mistake in 2000 by not accepting the Camp David proposal. "Arafat flaked out," he said.
FOLLOW THIS TOPIC