Wanted Hamas member killed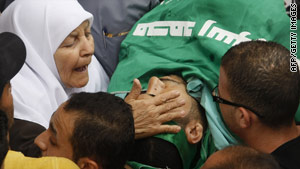 A relative mourns at Iyad Shilbayeh's funeral on Friday.
STORY HIGHLIGHTS
NEW: Spokesman for Palestinian prime minister condemns the shooting
Hamas accuses Israeli military of "executing" Iyad Shilbayeh
Israeli military was looking for the suspect
The suspect ran towards soldiers and did not heed calls to stop, spokeswoman said
Jerusalem (CNN) -- A wanted Hamas operative was killed overnight in an Israeli military operation in the occupied West Bank, the military said Friday.
A spokeswoman for the Israeli military told CNN that Israeli soldiers were on a mission to apprehend Palestinian Iyad Shilbayeh for suspicions of involvement in recent "terror activity" in a town near the northern West Bank city of Tulkarem.
Shilbayeh ran toward the Israeli soldiers with his hands behind his back in a suspicious manner and continued to advance despite calls for him to stop, according to the spokeswoman. It was at this point that Israeli soldiers opened fired the spokeswoman told CNN.
The spokeswoman could not say whether the man was armed or not at the time of his shooting. She said the incident was still being investigated.
The website of Hamas on Friday accused the Israeli military of "executing" Shilbayeh in the Nour Shams refugee camp near Tulkarem and said the rival Palestinian Authority in Ramallah also bore responsibility for his death.
Ghassan Khatib, a spokesman for Palestinian Prime Minister Salam Fayyad, denounced the shooting in a statement to CNN.
"We condemn strongly this Israeli assassination of a Palestinian citizen in the West Bank," he said. "This Israeli escalation can undermine the fragile peace process which has started and this Israeli violation should invite strong international intervention to bring an end to this and enable the Palestinian Authority security services to function in the Palestinian territories."
The killing of the Hamas activists comes amid a period of increased tension in the West Bank. Last month, four Israelis were killed in a Hamas-sponsored shooting attack in the West Bank. That attack came just two days before the resumption of direct negotiations between Israelis and Palestinians and has been viewed as an attempt by Hamas to derail the talks.
Hamas said Friday 15 of its activists were rounded up in overnight arrests.
The Israeli military said it made 18 arrests overnight in the West Bank of suspects engaged in "terror activity."
Hamas took over Gaza in a violent power struggle with the Fatah-backed Palestinian Authority in 2007.
FOLLOW THIS TOPIC