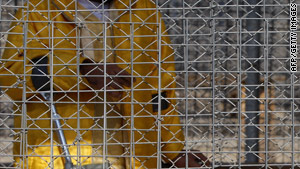 Iraqi Prime Minister Nuri al-Maliki has previously disputed reports about torture in a secret prison.
STORY HIGHLIGHTS
Prime minister spkoesman calls the figure "extremely exaggerated"
The United States military in Iraq rejects the allegations
Detainees sometimes suffer severe beatings in secret prisons, the human rights group claims
About 10,000 detainees have just been transferred from U.S. to Iraqi control
(CNN) -- Tens of thousands of people are being held without charge in Iraq, sometimes suffering severe beatings in secret prisons, Amnesty International said Monday in a report that Iraqi and U.S. authorities disputed.
The report, which estimates 30,000 Iraqis are being held without trial, says Iraqi authorities "have failed to provide precise figures."
The human rights group issued the report on the heels of the transfer of up to 10,000 detainees from American custody to Iraqi control, following the official end of the U.S. combat mission in Iraq.
A spokesman for Iraqi Prime Minister Nuri al-Maliki described the 30,000 figure as "extremely exaggerated" and "inaccurate."
His spokesman, Ali al-Moussawi, said the Iraqi government is holding about 12,000 detainees, most of whom have been charged and are awaiting trial.
Al-Moussawi said Amnesty International was relying on reports from "biased sources," such as relatives of detainees.
He said Iraq's prisons are open for inspection by international organizations such as Amnesty International but that the non-governmental organization had not done so. (The report said that the NGO had visited facilities only in the Kurdish region in the north.)
Iraq is going through "extraordinary circumstances" with "an open war" against terrorism, and detainees in Iraqi facilities include foreign and Iraqi terrorists, those involved in the sectarian war and criminals, he said.
Al-Moussawi added that there are no "political prisoners" in Iraq; government opponents are not jailed.
The spokesman said "individual cases" of torture and abuse may occur in Iraqi facilities, but they are not widespread. He attributed such cases to members of the former regime who used torture to extract confessions.
Al-Moussawi said the reports were being investigated, many people have already been held accountable and the government does not allow abuses in its facilities. He added that the government would soon release a detailed response.
According to al-Moussawi, al-Maliki ordered the formation of seven judicial committees more than seven months ago to look into cases of people who were being held without charge and to speed the process.
He said more than 4,500 detainees have been released since April and another 3,500 may be released soon.
Al-Moussawi said that there are "no secret prisons" in Iraq.
The United States military in Iraq said detainees in the Iraqi judicial system are not "likely to face torture and ill-treatment."
"The detainee facilities are inspected frequently and abide by the rule of law and international standards for detainee care and management," Lt. Col. Bob Owen said Monday.
"The Ministry of Justice is serving a valuable role here in Iraq. Detainees are fed, clothed, provided medicine and able to meet with family members. The U.S. is not violating any international agreements in Iraq in respect to detainees."
Allegations of torture and abuse at a secret prison were first reported by The Los Angeles Times on April 19. Amnesty International then urged Iraqi officials to investigate the claims.
Al-Maliki disputed the report.
"There are no secret prisons in Iraq at all," the prime minister said in an April 26 interview with state-run Al-Iraqiya TV.
Al-Moussawi said Monday that al-Maliki had shut the government-run facility after the torture reports were made public and an investigation was carried out.
CNN's Jomana Karadsheh in Baghdad, Iraq, contributed to this report.
FOLLOW THIS TOPIC