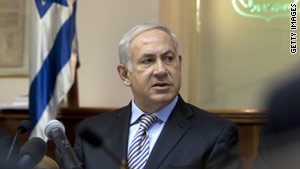 Benjamin Netanyahu has offered to meet Palestinian Authority President Mahmoud Abbas every two weeks.
STORY HIGHLIGHTS
Netanyahu says talks with the Palestinians are "an important step"
He says any agreement would have to include recognition of Israel
The two sides met for talks in Washington last week
Jerusalem (CNN) -- There is no guarantee that talks between Israel and the Palestinians will succeed, Israeli Prime Minister Benjamin Netanyahu said in a Jewish New Year greeting released Tuesday, but he promised to strive for a peace agreement by this time next year.
"I believe that we should make every effort to reach an historic compromise for peace over the coming year," he said in the video, released ahead of Rosh Hashana, which begins at sundown on Wednesday. "I guarantee one thing. This will not be easy. But as Israel's prime minister, it is my responsibility to make every effort to forge a lasting peace with our neighbors."
He said Israel is trying "in good faith, but not naivety" to reach an agreement. And any such agreement would be based on security and recognition of Israel as a Jewish state, he said.
"If we are asked to recognize a Palestinian state, it is both natural and appropriate that the Palestinians recognize the state of the Israeli people as a Jewish state," Netanyahu said.

Video: Obama: Mideast talks worth risk

Video: West Bank settlers wary of peace process

Video: Israelis, Palestinians talk peace
On Sunday, Netanyahu offered to meet Palestinian Authority President Mahmoud Abbas one-on-one every two weeks to discuss "the agenda for a peace agreement."
"I believe that what is needed now in order to move the process is not multiplicity of [negotiation] teams, but rather decisions of leaders," Netanyahu said at the start of Israel's weekly Cabinet meeting.
Chief Palestinian negotiator Saeb Erakat said Netanyahu is taking "the right approach."
"The decisions are made by Abu Mazen and by Netanyahu," Erakat said, using a common nickname for Abbas.
The two sides resumed face-to-face negotiations over their long-running conflict in Washington last week, but violent Palestinian groups such as Hamas vowed to continue attacks on Israelis.
In Washington last week, Netanyahu and Abbas deadlocked over the contentious issue of Israeli settlements in the West Bank. The two men met alone behind closed doors for more than an hour and a half Thursday in a State Department room just outside Secretary of State Hillary Clinton's office.
The one-on-one meeting followed their on-camera pledges to move the peace process forward.
If we are asked to recognize a Palestinian state, it is both natural and appropriate that the Palestinians recognize the state of the Israeli people as a Jewish state.
--Benjamin Netanyahu
But several diplomatic sources involved in the summit said the two leaders emerged from their meeting in a stalemate over whether Israeli settlements should continue.
According to Fadi Elsalameen, who accompanied Abbas, the two leaders were very blunt about their opposing views.
Netanyahu is under pressure from the Palestinians and the Obama administration to extend a 10-month moratorium on building Israeli settlements in the disputed West Bank territory. That moratorium is set to expire September 26.
Netanyahu's conservative coalition government wants the Israeli prime minister to end the moratorium.
Elsalameen said that Clinton, when asked about what would happen if Israel continued to expand the controversial Jewish settlements, responded as President Barack Obama has publicly stated: "Then all bets are off."
Despite the standoff between the Palestinian and Israeli leadership, Elsalameen said that starting Sunday, their chief negotiators will meet on a daily basis to try to entertain compromises.
According to U.S., Israeli and Palestinian officials, the hope is that during those talks, some trust and confidence will be developed, and some of the other issues will be settled, possibly making it easier to find a formula for extending the moratorium. The issue could then be discussed when Netanyahu and Abbas meet again in Egypt on September 14 and 15.
Clinton will travel to Sharm el-Sheikh and Jerusalem on those days to participate in the talks, a senior state department official told CNN Sunday. Clinton will be joined by George Mitchell, the U.S. special envoy for Middle East peace.
CNN's Waffa Munayyer and Paul Colsey contributed to this report.
FOLLOW THIS TOPIC