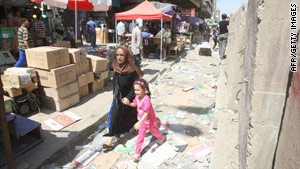 A mother and child run Sunday after a suicide bombing at Iraqi military headquarters in central Baghdad.
STORY HIGHLIGHTS
NEW: Political vacuum could be causing attacks, observers say
Insurgents have staged a number daring attacks in Baghdad
Violence on Sunday left at least a dozen people dead
The U.S. military ended its combat role in Iraq last week
Baghdad, Iraq (CNN) -- A string of bombings and shootings in Iraq has left at least one Iraqi military officer and five civilians dead and at least 21 people wounded, authorities said Monday.
The widespread violence came a day after a bold attack by insurgents in the heart of the capital.
Gunmen killed an Iraqi brigadier general as he drove his car early Monday in al-Ameriya, in western Baghdad, the Interior Ministry said.
In addition, five Iraqi construction workers were found dead Monday morning in the northern city of Samarra, according to local police.
Authorities discovered their bullet-riddled bodies in an apartment where they were living in the center of the city. Two of the men were engineers and the other three laborers for a construction company refurbishing a police station and a youth center.
Samarra is about 62 miles (100 kilometers) north of Baghdad.
In western Baghdad's Harthiya neighborhood, gunmen using silencers wounded a senior Ministry of Agriculture employee as he was leaving his home.
Such attacks, targeting government and security officials, have been on the rise in recent months.
A double bombing in western Baghdad's Ghazaliya neighborhood Monday wounded at least 15 Iraqis. First, a roadside bomb targeting civilians detonated, which was followed by a second blast when security forces responded to the scene. Six Iraqi soldiers, four policemen and five civilians were wounded.
In southern Baghdad's Dora district, a roadside bomb hit a convoy of a private Iraqi security company, wounding at least two civilian bystanders and damaging one vehicle.
At least three others were wounded in overnight violence, the official said.
Gunmen opened fire on a police checkpoint in western Baghdad, wounding a policeman, while a bomb attached to a civilian vehicle wounded its two occupants.
The increase in attacks coincides with political uncertainty, as politicians have been unable to form a government six months after the country's inconclusive national elections.
There have been concerns that insurgents would take advantage of the political vacuum to try to reignite the sectarian bloodshed that gripped Iraq for years.
On Sunday, at least five suicide bombers carried out a coordinated and complex attack on an Iraqi military headquarters in central Baghdad, killing as many as 12 people and wounding dozens.
The assault by what the U.S. military believes were al-Qaeda in Iraq militants also drew American forces into the fight four days after President Barack Obama announced an official end to America's combat mission in Iraq.
Lt. Col. Eric Bloom, a U.S. military spokesman in Baghdad, told CNN on Sunday that U.S. forces based at the compound that came under attack "provided suppressive fire" along with Iraqi forces as two of the bombers managed to gain access to the base.
The brazen attack in broad daylight underscored the fragility of the security situation and the dangers Iraqis and Americans still face daily.
While overall violence in Iraq has dropped drastically over the past two years with the insurgency being dealt devastating blows, the insurrection has proven its ability to still carry out daring and deadly attacks across the country.
On August 28, the Iraqi government announced there were plots by al Qaeda and other groups to carry out attacks nationwide, and called on security forces and citizens to be on high alert.
FOLLOW THIS TOPIC