Hamas, 10 other groups pledge to continue targeting Israelis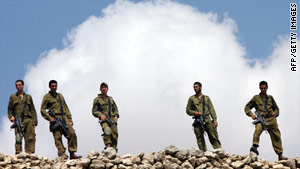 Israeli soldiers stand guard on the road leading to the Jewish settlement of Kiryat Arba in the West Bank.
STORY HIGHLIGHTS
NEW: 11 militant groups meet Thursday
Their pledge comes after two attacks on settlers
It also comes amid renewed peace talks in Washington
Hamas opposes the talks between Israel and Palestinian Authority president
(CNN) -- Members of the militant wing of Hamas and representatives of 10 other militant groups met Thursday and said they were joining forces and that attacks on Israelis would continue.
During the meeting, Hamas representative Abu Obeida spoke in general about resistance, jihad, and responding to Israel with iron and fire.
The meeting came shortly after a Hamas official said "resistance operations" against Israelis would continue, despite the arrests of Hamas activists in the West Bank.
The Hamas pledge to continue attacks came after the Islamist group claimed responsibility for two shooting attacks on Israeli settlers in the past two days that left four people dead and two others wounded.

Video: What may undermine peace talks

Video: Abbas on challenges ahead
The threat also coincides with the beginning of direct peace talks between Israeli Prime Minister Benjamin Netanyahu and Palestinian Authority President Mahmoud Abbas in Washington.
Hamas, which holds sway in the Palestinian territory of Gaza, opposes the talks. But Abbas said he is supported by allies in his rival Fatah party, as well as several other Arab governments in the region.
Hamas spokesman Sami Abu Zuhri, speaking to reporters in Gaza, said Abbas has no political legitimacy and no right to represent the Palestinian people.
A key Palestinian demand in the talks is that a freeze on Jewish settlement-building in the West Bank be continued, but settlers in the community where the four people were killed on Tuesday resumed building there on Wednesday night.
Naftali Bennett -- director of The Yesha Council, which represents settlers -- said the move is designed to show that the ultimate response to terror is the legitimate expansion of Jewish communities.
"This feels like deja vu from the days of the Oslo Accords, where fancy ceremonies take place in Washington while Israelis are murdered on our roads and in our schools," he said.
The settlement freeze, implemented to push forward the peace process, is set to expire on September 26.
Palestinians have said they will leave the direct talks if the freeze ends, and some members of Netanyahu's coalition government have threatened to leave if the freeze continues.