STORY HIGHLIGHTS
Sunni extremists, al Qaeda fighters once roamed Ramadi's streets, attacking U.S. Marines

Anbar province is the birthplace of the Sons of Iraq, insurgents who turned on al Qaeda

That militia is credited as a major reason violence has fallen across Iraq

With the U.S. troop drawdown, some in Ramadi fear area will descend back into violence

Editor's note: Arwa Damon is one of CNN's Iraq specialists and has reported extensively on events in Iraq.
Ramadi, Iraq (CNN) -- "I saw one suicide bomber, I saw him. By my eyes, I remember," says Qasim Abid, the governor of Anbar province in Iraq.
Abid lost his arm in the December 2009 attack, but not his determination to reinvent Ramadi. He says it will be his revenge against terror.
"The revenge by doing investment, by doing infrastructure, execution of project, killing the problem of unemployment and so on," Abid explains. "To make civilization in al-Anbar."
In the middle of his office is the model of a dream: the new city of Ramadi he wants to be built on the banks of nearby Habbaniya Lake. Modeled, he says, after Dubai.
The city, the capital of Anbar province, was once declared the capital of the "Islamic State of Iraq." Al Qaeda fighters and Sunni extremists roamed its narrow alleyways, attacking U.S. Marines who were defending the governor's compound.
The streets were deserted of people, filled instead with filth and knee-deep sewage. Walking for the U.S. military was not an option: They had to run because of the incessant threat of snipers.
Those same streets are now vibrant, exploding with colors from the various children's toys and clothes.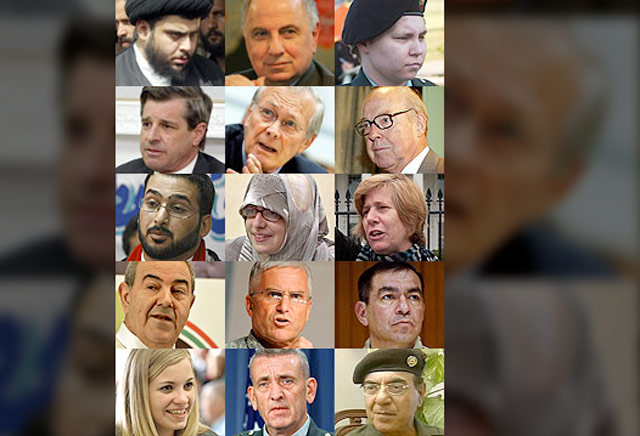 Gallery: Newsmakers from the Iraq War

Video: Good news from Iraq?

Video: Are Iraqi troops ready for U.S. pullout?

Video: Iraqi militants launch wave of attacks
Although the security situation in Ramadi has improved dramatically, appearances can be deceiving. Our escort from the governor's compound to the market was nervous about spending more than a few minutes on the streets, and we weren't able to talk to any of the shoppers and business owners.
Abid, the governor, freely admits that security is still an issue.
"It's not ideal," he says. "We have a lot of work to do. We have to struggle to make it better. Because the enemy -- and when I say the enemy, I mean al Qaeda and their related parties -- they are concentrating on al Anbar because they started in al Anbar."
The province is also the birthplace of the Awakening Councils, or Sons of Iraq, a Sunni militia that formed in 2007, largely made up of former insurgents who turned on al Qaeda. They are credited for being one of the major reasons that violence has fallen across the country.
But as a Sunni, Abid is nervous about the growing influence of Shia Iran, anxious that the government in Baghdad will be the servant of Tehran.
"Now, unfortunately, we trust the American Army more than our army. ... Iran can't manage with the American Army, but they can manage with our security forces easily," Abid says.
He says he pleaded with the United States to wait before drawing down troop levels to 50,000. But it was an appeal that fell on deaf ears in Washington, he says, as President Obama has pledged to end the war.
"If they delay this withdrawing, it could be better for us. If they give us more time, for example, one year, it is very important one year, we are in bad need for one year," Abid says.
There are concerns throughout the country that the U.S. military drawdown is happening when Iraq is especially vulnerable. Inconclusive elections in March left the nation in political paralysis, susceptible to an increase in violence.
Whether Ramadi becomes the next Dubai, slips back into sectarian chaos or ends up somewhere in between will be decided by Iraqis and, perhaps, their neighbors.
FOLLOW THIS TOPIC