Neda's mother appeals for help in finding killer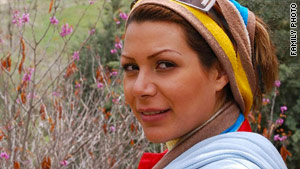 Neda Agha-Soltan was killed during protests after Iran's disputed presidential election in June 2009.
STORY HIGHLIGHTS
Neda, 26, was shot last year during demonstration in Iran
Neda's mother calls on international human rights organizations, The Hague to help
"Now I want the world to help me find Neda's murderer," she says
Tehran, Iran (CNN) -- The mother of the 26-year-old woman whose videotaped shooting last year in Tehran sparked anti-government demonstrations throughout Iran appealed Monday to international human rights organizations and to the international court in The Hague for help in prosecuting her daughter's killer.
"I have kept my silence all this time," Hajar Rostami told the New York-based International Campaign for Human Rights in Iran. "Now I want the world to help me find Neda's murderer. I have lost my child and my life has been turned upside down. Every time I return from her grave site, it feels as though my daughter only just died and we just buried her."
Neda Agha Soltan was killed by a single bullet to the chest during a demonstration during the day on June 20, 2009, eight days after Iranian President Mahmoud Ahmadinejad's landslide election victory unleashed massive demonstrations in the country.
Her last moments -- captured on a cell phone camera and shown around the world -- catapulted her into the symbol of the post-election reform movement in Iran.
Iran's leaders called the uprising a foreign-led plot to overthrow the regime. It cracked down on the protesters, with many killed and even more jailed.
Images of the bloody crackdown fueled worldwide outrage.
Iranian authorities have offered at least three explanations for the killing. They have blamed the CIA, terrorists and supporters of the opposition movement.
But they have yet to announce an arrest in connection with the killing.
Rostami complained that documentaries broadcast by state-run television distorted the events that led to her daughter's death.
"They have broadcast three films and each time contradicted their earlier claims," she said. "As Neda's mother, as far as I know, she went out to protest and was killed by their forces; there is no other story."
She added, "No one believes these lies, neither Iranian people nor those abroad."
FOLLOW THIS TOPIC