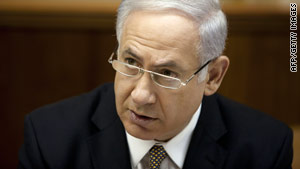 Benjamin Netanyahu says his goal is to "seriously and responsibly" advance a peace agreement with Palestinians.
STORY HIGHLIGHTS
NEW: Abbas says Israel will be held responsible, if talks fail
Netanyahu sees success if both sides take the talks seriously
Palestinians want Israeli government to condemn a leader's sermon
Direct peace talks between Israel and the Palestinian Authority begin Thursday
Jerusalem (CNN) -- Israeli and Palestinian leaders were looking forward to direct talks this week in Washington with both hope and apprehension. The two sides have agreed to hold direct peace talks beginning Thursday, the first such talks since 2008.
"I am convinced that if the Palestinian leadership approaches these talks with the same degree of seriousness as [us], we will be able to advance toward a stable agreement that will ensure peace and security for both peoples and will contribute to the security and stability of the region," Israeli Prime Minister Benjamin Netanyahu said Sunday.
Netanyahu leaves for Washington on Tuesday, he said, with the goal to "seriously and responsibly" advance a peace agreement with the Palestinians. The talks will be held without prior conditions, he said.
In a speech Sunday, Palestinian Authority President Mahmoud Abbas said he is traveling to Washington with the support of Arab governments.
"We have crossed a long way to reach to these negotiations, and our Arab nations have supported us" through a committee of the Arab League that drew up the basis for launching the negotiations, Abbas said.
The goal, Abbas said, was to reach a consensus that "would assure the national rights of our people and end the occupation from all occupied Arab land and provide security and freedom and real peace for all countries of the region and its nations, including our Palestinian people. "
Specifically, he cited an end to the control of east Jerusalem by the Israelis as well as an end to construction of Jewish settlements in the West Bank.
"We stress Israel's need and our need for security, but security cannot remain a pre-text to continue settlement activities and take over our land and deny our rights," Abbas said.
He added that if the talks fail, the Israeli government will be "the only one to be blamed and held responsible."
Netanyahu said he was aware of the difficulties that have derailed such talks in the past, and said that the basic question for him was whether the Palestinians are as willing to work toward peace as them.
"There shouldn't just be a tactical halt between two wars or two outbreaks of terrorism, but a peace based on recognition, security, stability and economic prosperity between the two peoples that will endure for us and our children," Netanyahu said.
He said any agreement would be based on principles, including the recognition of Israel as the nation-state of the Jewish people, ending the conflict and establishing security agreements on the ground.
Abbas, for his part, said Palestinians "hope that we will find in Israel a genuine partner that is capable of taking decisions and responsible measures in order to attend the occupation."
The chief Palestinian negotiator, Saeb Erakat, struck a more apprehensive tone ahead of the talks, calling on the Israeli government to denounce what he called Israeli incitement and racism against the Palestinians.
Erakat's call followed comments made by the spiritual leader of the Israeli Shas Party, Ovadia Yosef, during a weekly sermon. According to Erakat, Yosef said that Abbas and the Palestinians must "perish" from the world.
"The spiritual leader of Shas is literally calling for a genocide against Palestinians and there seems to be no response from the Israeli government," Erakat said. "He is particularly calling for the assassination of President Abbas who within a few days will be sitting face to face with Prime Minister Netanyahu. Is this how the Israeli Government prepares its public for a peace agreement?"
Shas is one of the main coalition members in Netanyahu's government.
Erakat said that the Palestinians are ready to resume negotiations in "seriousness and good faith," but that Israeli insults do nothing to advance the peace process.
In response, Netanyahu's office released a statement, saying, "These things do not reflect Prime Minister Netanyahu's approach nor that of the Israeli government."
CNN's Guy Azriel and Kareem Khadder contributed to this report.