Clinton to announce direct Mideast talks to resume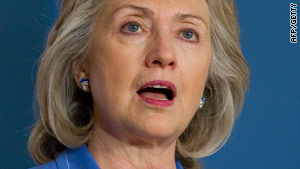 Secretary of State Hillary Clinton, photographed here on August 11, is expected to announce Mideast talks to resume.
STORY HIGHLIGHTS
Talks between the parties broke down in 2008
Many of the details are still being finalized
Both sides are expected to discuss core issues
Washington (CNN) -- Secretary of State Hillary Clinton is expected to announce Friday that Israel and the Palestinian Authority have agreed to return to direct talks to address core issues, diplomatic sources and a senior U.S. official said.
The sources said President Barack Obama is expected to invite the parties to talks in Washington in early September. But they cautioned the final details were still being worked out.
If the talks resume, it would be the first time since peace talks broke down in December 2008 over Israel's three-week military offensive against Hamas in Gaza.
At a news briefing Thursday, State Department Spokesman P.J. Crowley talked about the work being done to get both parties to restart the talks.
"We think we're very, very close, but there's still work being done and there are details being worked out," Crowley said.
"Should the parties come to an agreement to enter into direct negotiations? How will they -- when will they happen? Where will they happen? What will be the agenda for the first meeting? There are still things that we're working through."
Sa'eb Erekat, chief Palestinian negotiator, said the Palestine Liberation Organization's executive committee will meet about the issue Friday night.
CNN's Kareem Khadder contributed to this report.
FOLLOW THIS TOPIC