Yemen says leading al Qaeda militant surrenders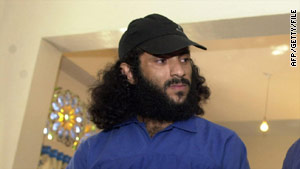 Hezam Mujalli pictured during an appeal hearing session at a Sanaa court, Yemen in December 2004.
STORY HIGHLIGHTS
Hezam Mujali turned himself in
He survived a raid on an al Qaeda hideout
The Yemeni government is ramping up its fight against al Qaeda
(CNN) -- An al Qaeda leader in Yemen accused of aiding operatives in the 2002 bombing of the French-flagged oil tanker Limburg has surrendered to authorities, Yemen's embassy in the United States said Thursday.
Hezam Mujali also had been sentenced to death in August 2004 for killing an army officer and he was charged with attacking a helicopter from the Texas-based Hunt oil company in November 2002.
Among 23 detainees that escaped prison in 2006, Mujali survived a December 2009 raid on an al Qaeda hideout in the district of Arhab in Yemen.
The announcement of Mujali's surrender comes as Yemeni authorities stepped up their battle against al Qaeda fighters, a struggle that has left dozens of security officers dead, said Mohammed Albasha, embassy spokesman.
"Yemen looks forward to working closely with regional and international allies to step up efforts to train and equip Yemeni forces," Albasha said.
The embassy also announced the surrendering earlier this month of another operative -- Jomaan Safian, who harbored dozens of foreign al Qaeda fighters and supplied logistical help to the militants.
The Yemeni government has been fighting a growing al Qaeda element in Yemen called al Qaeda in the Arabian Peninsula.
It grabbed the attention of the West with the Christmas Day attempted bombing of a Northwest Airlines trans-Atlantic flight as it landed in Detroit, Michigan.
The suspect, Umar Farouk AbdulMutallab, who has pleaded not guilty to six federal terrorism charges, was reportedly trained and armed in Yemen.
Since its inception in January 2009, AQAP has claimed responsibility for numerous terrorist attacks against Saudi, Korean, Yemeni and U.S. targets.
The Treasury Department in July designated Anwar al-Awlaki a key leader for al Qaeda in the Arabian Peninsula. Executive Order 13224 freezes any assets al-Awlaki has under U.S. jurisdiction and prohibits U.S. citizens from engaging in any transactions with him.
Al-Awlaki, a U.S. citizen and Islamic cleric, has pledged an oath of loyalty to AQAP emir Nasir al-Wahishi and plays a major role in setting the strategic direction for AQAP, according to U.S. officials. Al-Awlaki has also recruited individuals to join AQAP, facilitated training at camps in Yemen in support of acts of terrorism, and helped focus AQAP's attention on planning attacks on U.S. interests, the Treasury Department said.
Since late 2009, al-Awlaki has taken on an increasingly operational role in the group, including preparing Abdulmutallab for his operation, officials said.
FOLLOW THIS TOPIC