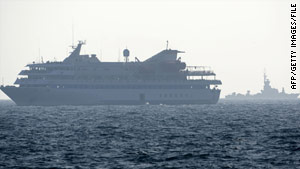 The Mavi Marmara with Israeli troops on board nears the port of Ashdod, Israel, in May after the flotilla raid.
STORY HIGHLIGHTS
At least four Israeli soldiers have been detained, according to media reports
Israeli military says it isn't certain gear was from the ship Mavi Marmara
Arab Knesset member says scale of theft is far greater than reported
High-ranking officer is quoted as saying incident "will prove embarrassing and shameful"
Jerusalem (CNN) -- Israel is investigating claims that some of its soldiers stole personal belongings of activists participating in the controversial Gaza aid flotilla in May.
At least four soldiers were being detained on suspicion of stealing and selling laptops belonging to activists aboard the ship Mavi Marmara. Ynetnews, the English-language website affiliated with the Israeli daily Yedioth Ahronoth, first reported the development and other agencies have followed up.
The Israeli military intercepted the ship and others to keep them from entering the Palestinian territory of Gaza. Violence erupted on the Mavi Marmara and left nine Turkish citizens dead, including one with dual U.S. citizenship.
When asked about the theft of computers, electronic devices and money, an Israel Defense Forces representative told CNN that "at this point it is not certain that the equipment indeed originated on the Mavi Marmara. The matter is currently investigated by the military police criminal investigation division and we cannot therefore provide any further details at this time."
Ynet quoted a high-ranking officer saying the investigation "has just begun, but as it appears now it will prove embarrassing and shameful. These are soldiers who don't understand what their uniform represents."
Haneen Zoabi, an Arab Israeli member of the Knesset who was aboard the Mavi Marmara, said this must have taken place while the Israeli navy was confiscating the ship and forcing it to dock in Ashdod.
"This is not a surprise and it is not the whole truth," Zoabi said. "We will discover that a lot of the personal belongings of the activists were stolen and looted."
Zoabi contended the items were stolen "not after the confiscation of the ship but even before we docked in Ashdod," because most of the activists were unable to reach their belongings, which she said soldiers placed "in one big pile."
Zoabi said one activist who was able to reach his belongings discovered that 2,000 euros and $2,000 had disappeared from his bag.
Zoabi has sent an official letter to the Israeli army inquiring what happened to the belongings of four Palestinian citizens of Israel but said she has received no response.
"We are not talking about one soldier, we are not talking about six computers, we are talking about hundreds of computers, we are talking about hundreds of cameras and hundreds of electronic valuable devices and talking about tens of thousands of euros and dollars which [were the] personal belongings of the 600 activists, " Zoabi said.
Lubna Masarwa, one of the flotilla organizers who was aboard the Mavi Marmara, said her purse, $1,000 in U.S. currency, Israeli currency, a computer, a camera, credit cards, her passport, driving license and telephones all were confiscated and not returned to her.
Two weeks ago, Adallah, the legal center for Arab minority rights in Israel, submitted a letter on behalf of Masarwa and another activist requesting their property be returned.
"I am not surprised by this act," Masarwa said. "The soldiers were ready to kill civilians, and I am not surprised that they have stolen everything that was on board the ship, and this is a continuation of sea piracy and theft.
"This is an army with no morals, and I consider myself living in a mafia country where there is no protection to my life or to my human rights or to my personal belongings. I not only request the sentencing of the soldiers for the theft of belongings but also for the killing of civilians who were aboard the ship."
CNN's Kareem Khadder contributed to this report.
FOLLOW THIS TOPIC