At least 8 dead in multiple Iraq bombings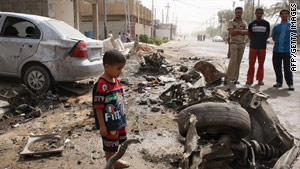 Iraqis gather at the site of a blast in Falluja on Sunday.
STORY HIGHLIGHTS
A roadside bomb north of Falluja wounded 10 people, including six police officers
A suicide truck bomb in Ramadi killed eight people, including two police officers
U.S. soldier killed in Babil province, central Iraq
The country is in a critical period as the U.S. begins its drawdown
(CNN) -- Multiple bombings in Iraq killed at least eight people and wounded dozens more Sunday on the same weekend the U.S. formally handed over control of combat operations to Iraqi forces.
A U.S. soldier also died Saturday in the Babil province of central Iraq, the military said Sunday. The name of the soldier has not been released, pending notification of family and release by the Department of Defense. The incident is under investigation, the military said. No other details were released.
Eight people, including two police officers, were killed in central Ramadi when a pickup truck bomb exploded shortly before noon. Thirty-two people were also wounded in the attack, Baghdad and Ramadi police told CNN.
Separately, a roadside bomb exploded Sunday morning at an Iraqi police patrol north of Falluja wounded 10 people, including six police officers, Falluja police said. The bombing happened in Saqlawiya, located about 7 km (4 miles) north of Falluja.
In Baghdad, three roadside bombs exploded in three different locations in central Baghdad on Sunday morning and wounded five people including four traffic police.
Late Saturday night, gunmen attacked a police station in al-Jazeera, located west of Falluja. Four police officers were killed in the attack.
Thirty-six people also died Saturday in three explosions in a busy market in central Basra, police said. At least 100 people were wounded, but police said it remains unclear whether the blasts were the work of terrorists or the result of an electrical spark or malfunction which caused a large power generator to explode.
Overall, violence in Iraq has dropped drastically over the past two years compared to the height of the sectarian war in 2005 and 2007, but such attacks continue.
The country is also at a critical period as U.S. forces continue drawing down troops to reach 50 thousand by the end of August ahead of the Obama Administration's deadline to end America's combat missions by September 1.
Iraqi statistics show a spike in violence in July, which is disputed by the U.S. military, who maintain that the levels are staying stable.
Some senior Iraqi officials as well as civilians have expressed concerns about the U.S. drawdown against the backdrop of a political vacuum -- Iraqi politicians have failed to form a government for five months after the inconclusive March elections.
In response to a question about readiness of the Iraqi security forces and concerns about a return to increased violence expressed by Iraqis, Gen. Raymond Odierno, the top U.S. commander in Iraq, told CNN that, "Security has continued to move forward, a little bit better depending on which area you are at -- so they have done it."
He continued, "What I would tell them is that we are still here, we are not leaving completely and we're still very committed to Iraq. We are still going to have 50,000 troops on the ground for a significant period of time to help them build that confidence between them and the Iraqi security forces.
FOLLOW THIS TOPIC