Dubai youth uses traditional pearling boats for racing
STORY HIGHLIGHTS
Dhows were once used as pearl diving boats in the UAE
Young people rediscovering dhows as racing boats
Dubai International Marine Club organizes dhow races to keep the tradition alive
"There's something beautiful about racing these boats," says champion dhow racer
Dubai, United Arab Emirates (CNN) -- Pearl diving is now a rarity in the UAE, but dhows, the boats traditionally used for pearling, are making a comeback as the racing boat of choice for a generation of younger Emiratis.
Before oil was discovered in the region, locals made their living as pearl divers. The men would go to sea for months at a time and, while it sounds romantic, life was tough.
Today, pearl diving has almost disappeared, but young Emiratis are rediscovering dhows -- not for pearling, but for racing.
Dubai International Marine Club (DIMC) has been organizing dhow races since 1991. But who wins and loses isn't as important as keeping tradition alive.
DIMC managing director Saeed Harib told CNN: "They receive good prize money. They receive some money from the owners, but in the end they are maintaining our heritage."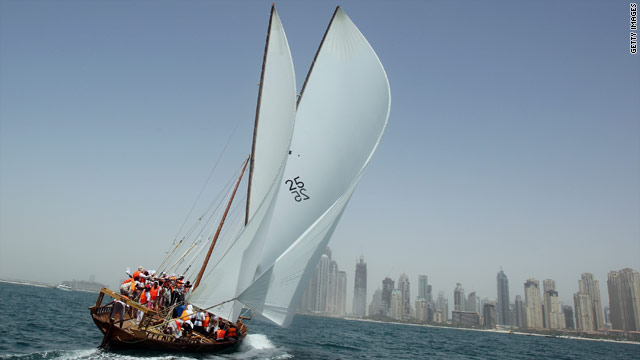 Gallery: Dhow racing in the UAE
Harib comes from a long line of Emirati pearl divers. With a passion for the ocean passed on by his father and grandfather, Harib's aim is to restore some local traditions.
"We have a very important message to keep and maintain our heritage, to keep and maintain our traditions," he said.
"Now, most of the people in dhow racing [are] the young generation -- 70 or 80 percent."
He added that without organized dhow races, dhows might only be seen in museums.
Racing dhows come in two lengths -- 22 or 60 feet. The smaller boats have between three and five crew members, while the 60-foot boats are sailed by 14 to 20 people.
Every dhow has exactly the same specifications; the workmen don't even use plans. Their tools? Not much more than years of experience and a well-trained eye.
With identical boats on the start line, winning comes down to the tactics of the skipper and the experience of his crew.
Saeed's middle son, Sultan, is the defending champion in the 22-foot class.
"There's something beautiful about racing these boats," Sultan told CNN.
"It's an ancient tradition that has become a modern sport. The design of the boat and the smell of the wood -- it's lovely."
But would Sultan swap his modern lifestyle for that his pearl diver grandfather and great grandfather?
"To be honest, no," he said. "I think we came along at the right time."
FOLLOW THIS TOPIC