Mother wants daughter out of solitary confinement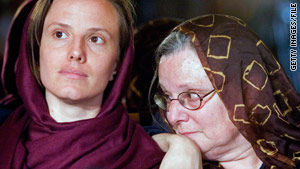 Sarah Shourd, left, meets with her mother, Nora Shourd, in Tehran, Iran, in May.
STORY HIGHLIGHTS
Mother of one of three hikers detained in Iran urges the U.N. to help
Solitary confinement is torture, she says
The three hikers have been held in Iran for more than a year
(CNN) -- The mother of one of the three American hikers detained in Iran asked the United Nations on Thursday to help get her daughter out of solitary confinement.
Nora Shourd, the mother of Sarah Shourd, said she has asked the United Nations special rapporteur on torture to intervene in the continued detention of her daughter.
"Torture takes many forms, and it is widely recognized that protracted solitary confinement constitutes invisible psychological torture, especially in a case like Sarah's when the detainee does not know why she is being held or what will happen to her," Nora Shourd said in a statement.
"I hope the special rapporteur, as a respected independent figure, can take up her case as a humanitarian priority and end the nightmare she is being made to live."
Shane Bauer, 27, Sarah Shourd, 31, and Josh Fattal, 27, were detained last July after they allegedly strayed across an unmarked border while hiking in Iraq's Kurdistan region.
The United Nations created the special rapporteur position to investigate human rights problems.
The mothers of all three hikers are urging the U.N. to help end their children's detention.
FOLLOW THIS TOPIC