STORY HIGHLIGHTS
UAE moves to restrict BlackBerry services have drawn criticism
Decision is "sovereignty issue, not just a security issue," says UAE source
UAE has been in discussion with BlackBerry makers for three years
Government told to crack down human trafficking, drug smuggling and money laundering
(CNN) -- There is a communication problem between the Middle East and Research in Motion (RIM) surrounding a device designed to enhance dialogue -- the BlackBerry.
From Washington to Silicon Valley and north of the border in Canada (where RIM is based), there is a worthy and lively discussion about the protection of democracy and free speech. At the heart of the debate is why encrypted messages need to be protected and where RIM secures its customers data.
As the host and correspondent for "Marketplace Middle East," I shuttle in and out of the region. One of the most open economies and home to the largest port, the UAE, has taken what many view as a "closed" position by saying it needs greater access to data for security purposes. But like the Middle East itself, this issue is more complex.
A government source familiar with the issue in the UAE told CNN this is a "sovereignty issue, not just a security issue." The position is, UAE regulatory laws have been on the books for nearly three years and those operating in the country should adhere to the national laws where they choose to do business, said the source who asked not to be named because of the sensitivities of the negotiations.
UAE officials have been talking with RIM for nearly three years in search of a solution. The only thing that has changed now is that a firm deadline to find a compromise has been fixed -- October 11. If there's no deal, BlackBerry services, including e-mail and web-browsing will be suspended.

Video: BlackBerry ban fallout
A solution for Abu Dhabi means that RIM needs to put its servers on UAE soil, or in this case, sand. "BlackBerry is finished. It's done," said the source, if servers are not installed.
A second government source, who also asked not to be named because of the sensitivity of the talks, told me, "other solutions will be found." As of now, RIM's encrypted data is delivered through secure servers at its own data centers, based mostly in Canada.
For its part, RIM says they "respect both the regulatory requirements of governments and the security and privacy needs of corporations and consumers."
The government is working on a Plan B with telecom operators and device manufacturers to enhance their offerings in a post-October 11 scenario.
This is a rough neighborhood when it comes to wars, conflicts and spymasters.
The position from the outside seems to be extreme, but for those who live or travel for business and news coverage in the region this hard line on information passing is commonplace.
The UAE is very security conscious. Big Brother is not far away. At all ports of entry, for example, the government has installed iris scanners to verify those who have work visas.
We have been stopped by police for pointing the camera in the direction of an oil depot or for having the Iraqi embassy in the backdrop of a shot we were taking. It took three hours and a lot of Arabic coffee to get out of that one. The reaction in my view was far beyond the infraction. It can feel claustrophobic at times, but I am not in charge of security.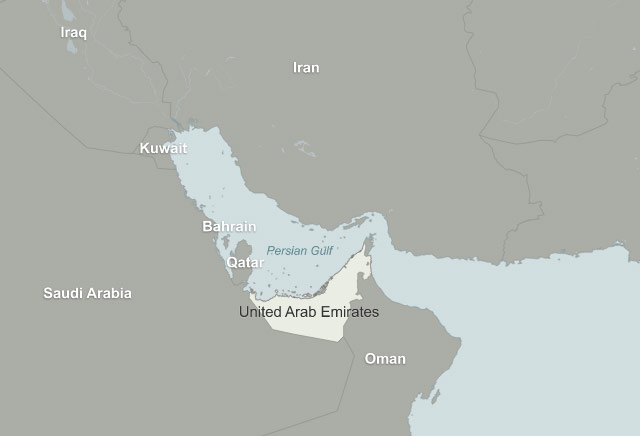 The Persian Gulf
It's also worth looking at a map to see why the UAE and others are on tenterhooks. This is a rough neighborhood when it comes to wars, conflicts and spymasters.
Right across the Persian Gulf and the narrower Straits of Hormuz is Iran. Last week, a Japanese tanker carrying 270,000 tons of crude was hit by a still-unknown source off the coast of Abu Dhabi.
While there was no spill, initially UAE port officials downplayed the event saying it was caused by a wave generated by an earthquake in Iran. But upon further examination, port officials concluded that it was an attack and a group with suspected links to Al Qaeda is now trying to take credit for the incident.
In the broader discussion about security, G-8 and OECD officials have been leaning on regional governments, and the UAE in particular, to crack down on human trafficking, drug smuggling and money laundering. Securing data is what one of the sources described as an "essential tool" in that effort. Translation for critics: don't ask us to take action and then tell us how to do it.
The UAE has drawn its "line in the sand" with RIM, but others may be ready to do the same. Saudi Arabia has called a halt of the BlackBerry service and I am told four other countries in the Middle East have talked to UAE officials to revise their position. What started as a spat in one Gulf market could be potentially big much bigger.
FOLLOW THIS TOPIC