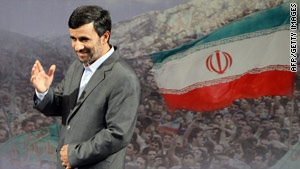 Iranian President Mahmoud Ahmadinejad offered to hold talks with President Obama "in front of the media, of course."
STORY HIGHLIGHTS
Iran's president challenges Obama to show whether "Zionists" call the shots for the U.S. government
Ahmadinejad plans to be in the United States in September
He's made offers to talk to U.S. presidents before
The United States tightened sanctions on Iran last month because of Tehran's nuclear program
Tehran, Iran (CNN) -- Iran's President Mahmoud Ahmadinejad is willing to hold one-on-one talks with U.S. President Barack Obama in September, he said Monday.
Ahmadinejad expects to visit New York then for the annual United Nations General Assembly meeting, he said at a speech in Tehran.
"I will be ready for talks, for one-on-one talks, with Mr. Obama in front of the media, of course," he said, posing the offer as a repeat of one he has been making to the U.S. president for years.
The White House did not immediately comment on the speech, which was carried live on Iran's government-backed Press TV.
Ahmadinejad made the offer in the course of attacking "Zionists," a term he uses to refer to Israel and Jews.
"Is the U.S. government influenced by Zionists or the other way around? He should make it clear which one is under the control of the other," Ahmadinejad said, dismissing "Zionists" as "a political party that handles wealth and money."
The United States tightened sanctions on Iran a month ago in response to Tehran's controversial nuclear program. Washington believes the Islamic republic is trying to develop nuclear weapons. Iran denies it.

Video: Will Obama meet with Iran pres.?
The new sanctions show the West does not understand the Islamic republic and "are aimed at preventing Iran from becoming an industrial pole and achieving its rightful place," Ahmadinejad said July 3, according to Iranian media.
But, he said, Iran has mastered the art of overcoming obstacles and "nothing can stop the progress of our industry," Iran's state-run Press TV reported, citing the state-run Islamic Republic News Agency.
The U.S. sanctions target companies that sell refined petroleum products to Iran and international banks that do business with Iran's Islamic Revolutionary Guard.
"It makes it harder for the Iranian government to purchase refined petroleum and the goods, services and materials to modernize Iran's oil and natural gas sector," Obama said when he signed the sanctions into law on July 1. "It makes it harder for the Revolutionary Guards and banks that support Iran's nuclear programs and terrorism to engage in international finance. It says to companies seeking procurement contracts with the United States government, 'If you want to do business with us, you first have to certify that you're not doing prohibited business with Iran.'"
But Ahmadinejad said two days later that "threats, political pressure and Western sanctions" were aimed at hindering Iran, Press TV reported. "We are all part of one family and should endeavor for Iran's progress," he said.
Iran does not seek world dominance and its diplomacy does not aim to infringe on other nations' rights, Ahmadinejad said, according to Press TV.
And he warned that "Iran will teach its enemies an unforgettable lesson" if they do not correct their hostile attitudes, Press TV said.
CNN's Mitra Mobasherat and Katy Byron contributed to this report.