Israel urges Abbas to restart peace talks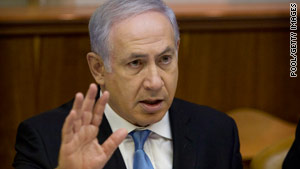 Netanyahu's call came days after the Arab League gave the Palestinian Authority a green light for direct talks with Israel.
STORY HIGHLIGHTS
Israeli prime minister says security is a necessary condition of any peace deal
He condemns a spate of recent rocket attacks launched from Gaza
He says he holds Hamas "directly responsible" for such attacks
(CNN) -- Israeli Prime Minister Benjamin Netanyahu urged Palestinian Authority President Mahmoud Abbas on Sunday to restart peace talks with Israel, saying he hopes Abbas "will accede not only to my call, but to that of many in the international community."
Netanyahu made the remarks at the start of his Cabinet meeting where he noted recent successful meetings with other Mideast leaders including Egyptian President Hosni Mubarak and Jordanian King Abdullah II.
He said the meetings "created a better international climate for the start of direct talks between Israel and the Palestinian Authority."
However, even as Netanyahu called on the Palestinian Authority "to put aside the claims, excuses and conditions -- and enter into peace talks," he said any settlement reached must be one based on security.
"Security is a fundamental condition and a necessary condition for achieving peace and there will be no compromise in its regard by the State of Israel," he said.
Netanyahu opened his Cabinet remarks by condemning the recent firing of rockets from Gaza into Israel. Two rockets were fired over a 36-hour period beginning Friday night, according to Israel Defense Forces. One was fired into Ashkelon on Friday, and another into Sderot on Saturday, the IDF said.
Netanyahu said Sunday that he holds Hamas "directly responsible" for attacks that originate in the Gaza Strip and warned that "Israel reserves the right to defend its citizens and we will continue to take all necessary measures in order to defend the State of Israel, Israeli citizens and Israeli children."
Israel responded to the rocket attacks with air strikes that killed at least one senior Hamas member and injured eight other people, Hamas security forces said Saturday.
The violence began just a day after the Arab League gave the Palestinian Authority the green light for direct talks with Israel.
The move prompted Netanyahu to say his country is ready for the face-to-face talks as well.
But Arab leaders made it clear it is now up to Abbas whether to engage in such negotiations.
Abbas is from the Fatah political movement. Fatah is the rival of the more hard-line Hamas, which runs Gaza.
The Arab League decision comes after intense Western pressures and more than a year and a half of a stalled peace process.
Israel and the Palestinians have been meeting indirectly with George Mitchell, the Obama administration's point man for the Middle East, shuttling between the sides.
Abbas has been reluctant to agree to direct talks in part because of continued Israeli settlement activity.
FOLLOW THIS TOPIC