Ahmadinejad: U.S. behind Iran suicide bombings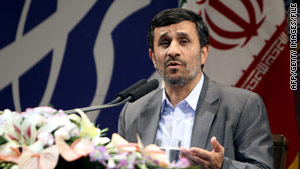 Ahmadinejad said only U.S.-backed terrorists could be behind such bombings as the ones in Zahedan, Iran.
STORY HIGHLIGHTS
Iranian president: The terrorist group that carried out the bombings is backed by the U.S.
His comments are the first public statements made since Thursday's bombings
An Iranian extremist group has claimed responsibility for the deadly attacks
The bombings outside a mosque killed 27 people
(CNN) -- Iranian President Mahmoud Ahmadinejad said Sunday that only U.S. troops in Afghanistan and Iraq could be behind such bombings as the ones that struck the southeastern Iranian city of Zahedan last week, state-run media reported.
"No grouping other than U.S.-backed terrorist groups which are devoid of human feelings can commit such acts," the official Islamic Republic News Agency quoted Ahmadinejad as saying.
Ahmadinejad's comments were his first public statements on Thursday's suicide bombings that killed at least 27 people and wounded dozens more.
An Iranian extremist group claimed responsibility Friday for the bombings in an announcement on the official website of Jundallah, also known as the People's Resistance Movement of Iran.
Ahmadinejad also said Sunday that he would file a complaint to international bodies over the bombings, IRNA reported.
"The puppeteers pulling the strings in this show will get nothing," he said, according to IRNA. "Such aggressive policies will only fuel public hatred."
Ahmadinejad's comments echo those made by other top Iranian officials last week.
"The U.S. cannot make up any excuses in this incident," said Iranian parliament speaker Ali Larijani on Friday, according to state-run Press TV.
Yadollah Javani, the head of the Revolutionary Guards Corps' political bureau, said terrorist groups under the auspices of the United States, Israel and some Western countries were involved, according to the semiofficial Fars news agency.
The blasts occurred in front of Zahedan's Grand Mosque, and the second explosion followed within minutes, Iran's state news agency IRNA reported.