Aid from Libya arrives in Gaza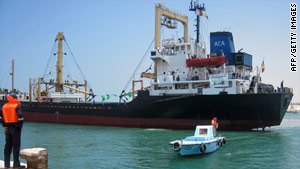 A Libyan-backed ship carrying aid for Gaza arrives at the Egyptian port of in Al Arish on Thursday.
STORY HIGHLIGHTS
The convoy is carrying food, medicine and other supplies
The aid arrived by ship in Egypt on Thursday and had been sitting in storage
The Libyan-backed ship was the latest to attempt to breach an Israeli naval blockade of Gaza
(CNN) -- Thirty-five truckloads of humanitarian aid from Libya began arriving in Gaza on Sunday, more than a week after a Libyan-backed ship set sail from Greece transporting the supplies, according to a spokesperson for the Israel Defense Forces.
The ship from the Gadhafi foundation, a charity headed by the son of Libyan leader Moammar Gadhafi, docked in Al Arish in northern Egypt on Thursday and began unloading aid. But the goods, which include food, medicine and construction materials, sat in storage awaiting transfer to the Gaza border while the medical materials -- a top priority for delivery -- were sorted from the other supplies.
The 35 trucks with Libyan aid were part of a larger convoy of nearly 200 truckloads of aid moving into Gaza on Sunday, the IDF said.
The Gadhafi foundation ship reached Egypt after sailing from Greece on July 10 with 2,000 tons of aid. It was the latest ship attempting to breach an Israeli naval blockade of the Palestinian territory of Gaza.
Israel had said it must inspect all goods prior to their entering Gaza to ensure that weapons do not get into the hands of militants, and the captain of the ship was persuaded to dock in Egypt instead of Gaza.
Gaza is run by Hamas, the Palestinian Islamist movement.
Israel came under fierce international criticism after Israeli navy commandos boarded a Gaza-bound Turkish aid ship in May and nine people died.
Israel said the activists on that ship attacked its troops when they boarded the boat.
The Israeli assault on the Turkish ship reverberated internationally and highlighted the Gaza blockade.
Israel has resisted demands for an international inquiry into the incident, but an Israeli military investigation into the boarding of the Mavi Marmara criticized some aspects of the operation.
FOLLOW THIS TOPIC