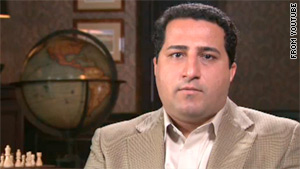 A man who says he is Iranian scientist Shahram Amiri appears in a YouTube video.
STORY HIGHLIGHTS
NEW: A U.S. official says nuclear scientist Shahram Amiri was paid $5 million, but no longer has access to it
Another U.S. official says U.S. came out ahead in Amiri's case
"We have his insights" into Iran's nuclear program, the official says
Amiri claims U.S. intelligence agents abducted him
(CNN) -- The United States "clearly got the better end of things" in the saga of Iranian nuclear scientist Shahram Amiri, a U.S. official familiar with the case said Thursday.
Amiri, who Tehran claims was kidnapped by U.S. agents, arrived in his homeland early Thursday, Iran's state-run media reported.
"We have his insights -- original information on the Iranian nuclear program that proved useful -- and now the Iranians have him. Plainly, we got the better end of things," the official said of Amiri.
In return for his information, Amiri received about $5 million from the United States, another U.S. official said. The second official referred to the payment as a "long-term benefits package" that enabled Amiri, 32, to defect and comfortably resettle in the United States for many years.
Since Amiri left the United States, he no longer has access to the $5 million, the official said, noting: "Anything he got is now beyond his reach, thanks to the financial sanctions on Iran. He's gone, but the money is still here."
The official denied an Iran State Media report that Amiri was offered $50 million dollars from the CIA to stay in the United States.
The first official stressed that Amiri wasn't kidnapped or coerced, as he claimed.

Video: U.S. pays millions to Iranian scientist

Video: Iranian scientist returns home
"He just wanted to see his family and -- unfortunately -- he chose a dumb way to do it, lying about what happened to him here to try to build up his credibility back home. He made his own decisions. He chose of his own accord to come to the United States, chose of his own accord who would come with him, and chose of his own accord to leave the United States," the official said.
The second official indicated Amiri will have to continue perpetuating the lie.
"His safety depends on him sticking to the fairy tale about pressure and torture. His challenge is to try to convince the Iranian security forces that he never cooperated with the United States. It's a tall order," the official said.
Amiri arrived Thursday at Tehran's Imam Khomeini International Airport and was greeted by Deputy Foreign Minister Hassan Qashqavi, according to the Islamic Republic News Agency.
Upon arrival, Amiri, who is a researcher from Tehran's Malek Ashtar University, repeated his allegation that American intelligence agents kidnapped him while he was on a religious pilgrimage to Saudi Arabia in June 2009.
"I was abducted in Medina. ... Then I was transferred to an unknown location in Saudi Arabia," Amiri told Press TV. "They injected anesthetic drugs into me. They took me to the United States on a military plane."
Amiri also said: "During my stay in the first two months, I was subjected to heavy psychological and mental tortures by CIA interrogators. Other kinds of pressure, too. They told me if I don't cooperate with them, they will hand me over to Israel, and there are hidden prisons in Israel and there will be no trace of you any more."
On Monday, Amiri went to Iran's Interest Section at the Pakistani Embassy in Washington and asked to be sent home.
The Iranian government has accused the United States of involvement in Amiri's disappearance, saying the researcher was taken to force him to give up data about Tehran's nuclear program.
A top Iranian lawmaker recently alleged that newly found documents back up Tehran's claims that the CIA is responsible for Amiri's disappearance, Iranian media reported Sunday.
Javad Jahangirzadeh, a member of Iranian parliament's National Security and Foreign Policy Commission, said Iranian officials had turned over the documents to the Swiss ambassador in Tehran.
The U.S. State Department has denied that charge.
A U.S. official, who is not authorized to talk to the media about such issues, told CNN last month that it would be "ludicrous, absurd and even preposterous" to claim an individual was kidnapped by the United States and held against his will.
Last month, two videos surfaced on the Internet of a man claiming to be Amiri in which he said he had escaped from U.S. agents and was hiding in Virginia. That was the third time that videos allegedly showing Amiri had been circulated on the Internet.
CNN could not independently verify the authenticity of the videos nor the identity of the man in them.
"If he is who people think he is, the U.S. would be in contact with the person," a CIA official said last month. And if he were being held against his will, "how would he have been able to produce any of the videos?" the official asked.
Tehran blamed Washington for Amiri's disappearance shortly after revelations surfaced that Iran has been building a second uranium enrichment facility near the city of Qom. After that, tensions over Iran's nuclear program mounted.
Iran says its nuclear energy is solely for civilian purposes. But the United States has pushed the United Nations to punish Tehran for its nuclear ambitions. The U.N. Security Council recently slapped a fourth round of tough sanctions on the Islamic republic.
It is unclear how much information Amiri was privy to in Iran.
The fact Amiri was compensated by the CIA is not unusual. A former senior intelligence official said most if not all defectors are paid by the United States when they resettle in the country.
The former intelligence official said the $5 million given to Amiri was at the high end of the scale.
"It's a lot..he must have had some information that was particularly valuable," the former official said.
This official also said the amount of money given a defector varies from case to case. The defector might be unemployable, have language problems, be culturally uncomfortable or even have psychological issues.
"You do what you have to do to settle the person in a stable, humane way," the former official said.
Although Amiri's decision to return to Iran is an "embarrassing situation" for the United States, the former intelligence official said it is "the price you sometimes" pay when dealing with defectors.
A current U.S. official noted the personal risk a foreign asset takes in providing important information.
"You don't give something for nothing," the official said. "When you resettle a defector... you basically put together a long-term benefits package. They've helped the United States, and we, in return, help them. You want them to be self-sufficient, and not just blow or lose what they get and be in a tough spot."
CNN's Pam Benson, Jim Clancy and Shirzad Bozorgmehr contributed to this report.
FOLLOW THIS TOPIC