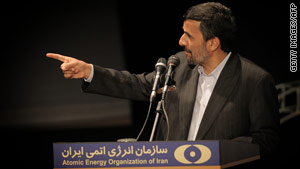 The policies of Iranian President Mahmoud Ahmadinejad have stirred much controversy in the international community.
STORY HIGHLIGHTS
A new report calls on individual countries to apply sanctions on Iran
The report is from coalition of scholars, government leaders and activists
The focus of the report is on human rights, terrorism and "incitement to genocide"
The Canadian author of the report calls Iran "a clear and present danger"
Jerusalem (CNN) -- Citing what its author called "a clear and present danger," a report compiled by an international group and released Tuesday calls on individual countries to use their own sanctions to pressure Iran on human rights and international terrorism issues.
The Responsibility to Prevent Coalition -- an independent group that describes itself as "an international consortium of 100 leading scholars, jurists, parliamentarians, government leaders, and Iranian human rights activists" -- held a press conference in Jerusalem to release its 200-page report on the Iranian regime.
The primary author of the report, former Canadian Justice Minister Irwin Cotler, outlined the four categories that he said represented the Iranian threat.
"Iran is in standing violation of international legal prohibitions against the development of nuclear weapons, Iran has already committed the crime of incitement to genocide prohibited under the Genocide Convention, Iran is a leading state sponsor of international terrorism, and Iran is engaged in widespread and systematic violations of rights of its own people," said Cotler, who is currently a member of the Canadian Parliament.
The document has a roadmap on how to confront Iran through a new set of sanctions that would go beyond the nuclear issue and address the additional charges against Iran that the report highlights. It calls on individual countries to impose their own sanctions that would pressure Iran to let up on issues of human rights, international terrorism and incitement to genocide.
Bassam Eid, a Palestinian human rights activist, spoke at the press conference about what he described as the damage the Iranian government has done to the Palestinian cause.
"The Iranians right now are trying to put their effort s to make two important things fail among the Palestinians," he said.
"The first one is the deal of exchanging prisoners between the abducted Israeli soldier Gilad Shalit and the Palestinian prisoners."
He than went on to accuse Iran of sabotaging Palestinian unity. " Iran will never, ever, allow anybody from the Hamas government (in Gaza) to reach any kind of reconciliation with Fatah," he said, referring to the party of Palestinian President Mahmoud Abbas who rules in the West Bank but not in Gaza where Hamas is in control, with the support of Iran.
Cotler appealed to the world's collective conscience, citing failures in recent history.
"Nobody can say that in regards to Rwanda that we did not know. We knew but we did not act. Nobody can say in regards to Darfur that we did not know, we knew but we did not act. In regards to Iran today, nobody can say that we did not know, we know and we are not sufficiently acting."
He accused Iran of numerous human rights violations, saying, "Iran has imprisoned more journalists than any other country in the world, Iran has executed more people than any other country in the world except China, and as a matter of juvenile executions, has executed more juveniles than any country in the world."
Amnon Rubinstein, a former Israeli Justice Minister sounded an even stronger note. "We are back in the 1930s, we have a powerful government, characterized by repressive measures, by belief in genocide, by being a threat to the peace of the whole world, and by a dithering community of nations."
"But there is one difference," he went on, "in the 1930s we didn't know what it would lead to, now we know."