STORY HIGHLIGHTS
Women are taking up motor racing in the West Bank
Car-crazy Noor Daoud says she has been driving since she was 11 years old
British driver Helen Elstrop has been helping train women race drivers
Jerusalem (CNN) -- A smell of burning rubber hits you as you arrive at the car-racing course in Ramallah.
Souped-up cars spin round the small track, forming figures of eight around traffic cones, smoke pouring from screeching tires.
This is practice day in the West Bank, but the men are merely spectators. Today is for the Palestinian women who feel the need for speed.
Noor Daoud is 20 years old and car-crazy.
She wears black-and-yellow overalls rolled down to her waist, her curly hair tied back in a ponytail, and holds her helmet loosely in a perfectly manicured hand: This Palestinian woman who freely accepts she's a tomboy.
"I like to be tough, not because I want to be, but I am tough already, from the inside, mentally and physically," she told CNN. "So, I like to use it when I'm in the car."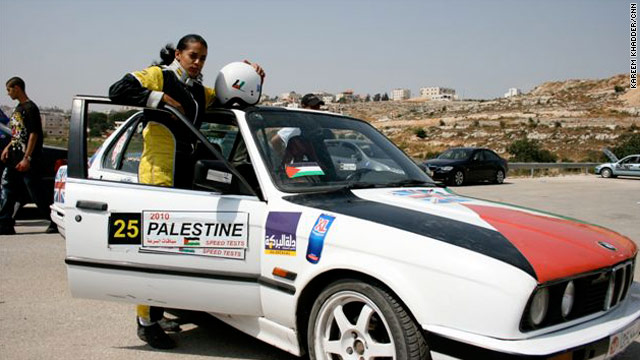 Gallery: Speed Sisters
Daoud has been driving since the age of 11 and used to run errands in the car for her mother in East Jerusalem. She was tall for her age, which is how she was able to reach the pedals.
Some of her male friends have come along for moral support and she says when other men see her race, they have no idea at first she's a girl.
"They think I'm a boy, they don't know I'm a girl," she said, adding that she gets some raised eyebrows when she takes her helmet off.
"They're really surprised, they say 'How can she? Where did she learn?' And I never learned really, nobody taught me, it's all me," she said.
Daoud recently had some expert coaching from British trainer and former competitor Helen Elstrop.
Funded by the British consulate in Jerusalem, Elstrop offers training these West Bank women would only otherwise dream of.
They think I'm a boy, they don't know I'm a girl.
--Noor Daoud, Palestinian race car driver
Elstrop told CNN: "The determination I see is just much stronger in these girls, and the Palestinian women I have met. They have worked very, very hard to achieve. Just to be out there is such a big, huge step."
As Elstrop helped to break down gender barriers in Britain in what was traditionally thought of as a boy's sport, she is helping the Palestinian women to do the same.
"When you have a crash helmet on, when you have your overalls on, when you have the windows up, who knows [who is] in the car?" she said. "It doesn't matter, we like a level playing field."
That was certainly the case on Ramallah race day. Seven women were competing with 43 men, and as the cars spun past scarily close to the spectators it was almost impossible to tell who was inside.
Although a man won this race, one of the women came seventh out of 50 -- an impressive achievement considering how young the sport is for Palestinian women.
Little disappointment from Noor. She said "It's been fun watching people win ... because we're all winners, we're all sisters. We're all speed sisters."
FOLLOW THIS TOPIC