Israel unveils new blockade rules for Gaza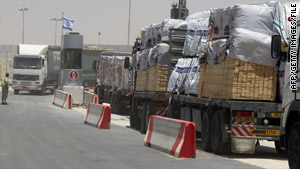 Trucks loaded with goods for Gaza line up at the Kerem Shalom terminal last month.
STORY HIGHLIGHTS
NEW: British government welcomes the changes, calls for more progress
NEW: Palestinian official criticizes Israeli move as insufficient
More goods allowed into Gaza, but others restricted
Materials that can be used as parts in explosives or weapons are not allowed
Jerusalem (CNN) -- Israel announced Monday that it will continue to restrict construction materials allowed into Gaza, but will allow other items to be brought into Gaza without specific permission.
The Israeli Security Cabinet last month voted to ease the blockade of goods into Gaza, which is ruled by Hamas. The decision followed a widely condemned incident in which Israeli soldiers stormed a humanitarian flotilla trying to break Israel's blockade of Gaza.
Israel unveiled two categories of materials that will remain under restrictions. The first category includes materials that could be used for bombs or other weapons, including certain fertilizers, ball bearings, lathes and their parts, hunting knives, machetes, and night vision goggles.
The second list includes construction materials that will only be allowed to enter Gaza for some Palestinian Authority-authorized projects.
"While such items are liable to be used for Hamas military purposes (building bunkers, fortifying positions and digging tunnels) Israel will permit their entry into Gaza so as to facilitate construction projects in Gaza -- authorized by the PA and implemented and monitored by the international community," the Israeli government said in a statement.
The United Nations welcomed Monday's announcement as a step in the right direction.
"This can only be the beginning of the long road towards reconstruction and a functioning economy in the Gaza Strip," said U.N. Special Coordinator for the Middle East Peace Process Robert Serry.
British Foreign Secretary William Hague also welcomed the move, which he said "shows that it is possible to lift the pressure on ordinary Gazans without compromising the security of ordinary Israelis." Hague's statement called for continued progress by all parties improve the situation on the ground.
Other groups were critical. Gisha, an Israel-based non-governmental organization, said the restrictions on Gaza remain too great.
"The restrictions that Israel applies on construction materials into Gaza prevent the private sector from rebuilding and create tremendous burdens on international humanitarian projects," the organization said in a statement.
An official with the Palestinian coordination committee in charge of the crossings, Raed Fattouh, told CNN that the Palestinian Authority received no formal notification from the Israeli government about the changes.
"Only through media outlets it has been said that the closure on Gaza have been eased, but this is not enough," Fattouh said, calling for Israel to allow more items to enter Gaza.
The change is among six steps the Israeli government will begin implementing as soon as possible, including expanding operations at the existing land crossings and streamlining the permitting process of international aid groups the government recognizes.
The naval blockade of Gaza remains in place, and military officials will continue to inspect goods on Gaza-bound ships.
The foreign ministers of France, Italy and Spain said Monday they will visit Gaza this month to verify the situation on the ground there and to see the checkpoints that Israel says it has opened to allow humanitarian aid to pass into Gaza.
FOLLOW THIS TOPIC