Pressure rising as settlement freeze deadline nears end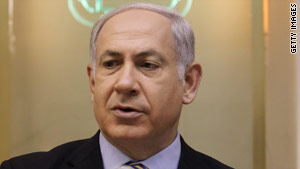 A campaign is reminding Israeli Prime Minister Benjamin Netanyahu that he said the settlement freeze was temporary.
STORY HIGHLIGHTS
Ten-month building freeze in West Bank settlements scheduled to end in September
Israeli PM Netanyahu, U.S. President Obama to meet this week
Right-wing groups in Israel applying pressure on Netanyahu to resume building in West Bank
Netanyahu wants to maintain right to extend freeze as tool in future negotiations
Jerusalem (CNN) -- As the 10-month building freeze in the West Bank settlements comes closer to its end scheduled in September -- and only days before the Benjamin Netanyahu-Barack Obama meeting this week -- tension in Israel over the question of the future status of settlements is rising.
Several right-wing groups have joined forces in recent days to pressure Israeli Prime Minister Netanyahu and members of his Likud party to honor their words and resume building in the West Bank.
"This is a historical moment for Netanyahu and his government where Israel's international credibility will be tested," says Naftali Bennett of the Yehsha Council, representing West Bank settlers.
"This will show whether we are crumbling under pressure as puppets of the United States or do we acknowledge what our existential interests are," Bennett added.
In a campaign titled "a word is a word," Netanyahu and his party's members are confronted with quotes they made a few months ago claiming the freeze is only temporary. The nationwide campaign includes both posters carrying quotes of Netanyahu's government and a recorded message in Netanyahu's own voice promising not to extend current building restrictions in the West Bank.
A second front Netanyahu faced Sunday was an offer to give lawmakers veto power over a government decision to extend the freeze. Extensive pressure applied by the prime minister's office on the ministerial committee eventually paid off and the offer was turned down by a majority of 8 to 5 votes.
Netanyahu wants to maintain the right to extend the freeze as a possible gesture to U.S. President Barack Obama or as a tool in future negotiations.
Netanyahu himself chose not to comment on the freeze due to expire on September 26.
"The main goal of the talks with President Obama will be to advance direct talks in the peace process between us and the Palestinians," Netanyahu said at the start of Sunday's cabinet meeting.
FOLLOW THIS TOPIC