Captured Israeli soldier's family marches to bring about release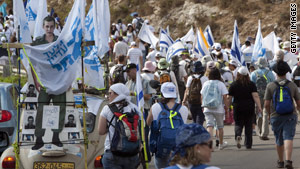 Thousands of supporters march to Jerusalem to spur the release of captured Israeli solider Gilad Shalit.
STORY HIGHLIGHTS
NEW: Netanyahu says he will meet with Shalit's family
Some 2,000 supporters are marching with family, police estimate
Family intends to camp outside Israeli PM's office until son is freed
Gilad Shalit held since June 2006, when Palestinian militants from Gaza captured him
Jerusalem (CNN) -- The family of Gilad Shalit, the Israeli soldier captured in Gaza by Hamas, set out on a march to Jerusalem on Sunday in an effort to bring about his release.
The family has been joined by some 2,000 supporters on their planned 12 days' journey, said police spokesman Micky Rosenfeld.
The Shalit family intends to camp outside Israeli Prime Minister Benjamin Netanyahu's official residence until their son is freed.
Netanyahu said he will meet with the family.
"This morning, I phoned Gilad's father Noam," Netanyahu said at the start of the weekly cabinet meeting on Sunday. "I invited him to meet with me, along with the rest of his family, immediately after the march reaches Jerusalem.
"I told him, 'I know Noam that you are on a long journey, which will end in Jerusalem. I want to see you. I would be glad to meet with you.' This will not be the first meeting. Of course, I have spoken with him many times."
Several prisoners swap deals between Israel and Hamas have already failed. The family and their supporters hope the added pressure will help jump start another round of talks between the two sides.
Shalit has been held captive since June 25, 2006, when Palestinian militants from Gaza, including Hamas, captured him. The militants tunneled into Israel and attacked an Israeli army outpost near the Gaza-Israel-Egypt border, killing two soldiers in the assault. Israel immediately launched a military incursion into Gaza to rescue Shalit, then age 19, but failed to free him.
Since being imprisoned by Hamas, Shalit has not been allowed any contact with the outside world, nor any visits by the Red Cross. Details of his incarceration and physical condition remain unknown.
In October 2009, Hamas released a tape of Shalit as a proof of life, in which he urges the Israeli government to do more for his safe release.
"The government and the security services are continuing to make constant and varied -- open and secret -- efforts to bring Gilad Shalit back home safe and sound," Netanyahu said Sunday.
FOLLOW THIS TOPIC