Reports: Iranian officials dismiss latest U.S. sanctions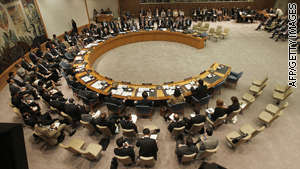 The U.S. sanctions against Iran were preceded by similarly tough measures by the U.N. Security Council two weeks ago.
STORY HIGHLIGHTS
Iranian parliament member says sanctions will only hurt U.S.
Alaeddin Boroujerdi: Iran will only become more self-sufficient
Sanctions approved in Congress Thursday; to be signed by President Obama
Bill aims to discourage Iran's nuclear weapons development
(CNN) -- Iranian officials are dismissing newly passed U.S. sanctions against their country, with one parliament member saying that the measures will only backfire against the United States, according to state-run media reports Saturday.
"The U.S. move to impose sanctions on Iran is in fact imposing sanctions on their own firms," the semi-official Iranian Student News Agency quoted Alaeddin Boroujerdi as saying. Boroujerdi is the head of parliament's National Security and Foreign Policy Commission.
The U.S. Senate and House of Representatives on Thursday approved tough new sanctions on Iran aimed at discouraging the Islamic republic's development of nuclear weapons. The sanctions target companies that sell refined petroleum products to Iran and international banks that do business with Iran's Islamic Revolutionary Guard.
The bill now goes to President Obama for his signature.
Boroujerdi said the sanctions have had an impact on Iran's self-sufficiency, saying "even in some cases, such as providing gas, we can use our local potentials or other resources to meet our needs," according to ISNA.
Another security and foreign policy commission member, Hossein Sobhani-Nia, told the official Islamic Republic News Agency that the United States has gone to great lengths to dissuade Iran from pursuing "peaceful nuclear energy," but its efforts have failed.
"The U.S. [is] stuck in a quagmire that it wants to exit by intensifying the sanctions," he said, according to IRNA.
The U.S. sanctions come about a week after the U.N. Security Council voted to impose similarly tough measures against Iran to try to force the hard-line regime to suspend its nuclear program.
FOLLOW THIS TOPIC