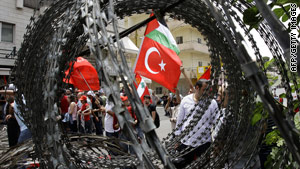 Protesters wave the Palestinian flag while protesting in Turkey earlier this month.
STORY HIGHLIGHTS
Netanyahu announces Israel easing Gaza blockade
NEW: Palestinian government and organization say it's not enough
United States, Mideast envoy Blair commend policy change
NEW: German minister denied access to Gaza
Jerusalem (CNN) -- Israel plans to ease its blockade of Gaza, Prime Minister Benjamin Netanyahu said Sunday following an Israeli Security Cabinet meeting, a step commended by major powers and brushed off by a Palestinian organization and government.
"The government position is that Israel should open all the crossings of Gaza in accordance with 2005 AMA agreement, and end the closure regime," Palestinian government spokesman Ghassan Khatib told CNN.
Tony Blair, envoy for the Middle East Quartet -- the U.S., Russia, the European Union and the United Nations -- said in a statement Israel would publish a list of weapons and war items not permitted into Gaza rather than those permitted, and allow full access of civilian goods.
The Security Cabinet said last week it planned to revamp its policy, paving the way for a vote Sunday.
"This comes as a partial manner due to international pressure but does not meet the minimal needs of the people in Gaza to live in dignity," said Hanan Ashrawi, member of the Palestine Liberation Organization executive committee.
Ashraw said the steps were an improvement but the blockade should be completely lifted and the Israeli occupation ended.
Israel's announcement comes three weeks after ships in Israel's naval blockade sparred with a flotilla of aid ships heading to Gaza. Nine Turkish activists were killed in the incident, which drew international criticism.
Israel's military stopped the flotilla and boarded the ships. Israel says its troops were attacked with knives, metal poles and other objects on one of the boats, and the flotilla passengers say they were fired upon without provocation.
The latest step is among six the Israeli government will begin implementing as soon as possible, including expanding operations at the existing operating land crossings and streamlining the permitting process of international aid groups the government recognizes, the prime minister said.
The naval blockade of Gaza remains in place, and military officials will continue to inspect goods on Gaza-bound ships, Netanyahu said. "Israel will continue to facilitate the expeditious inspection and delivery of goods bound for Gaza through the port of Ashdod."
Blair, who met with Netanyahu on Sunday, said the move should radically change the exchange of goods in the area.
"Plainly there are still issues to be addressed and the test of course will be not what is said, but what is done," Blair said in a statement. "But I welcome strongly this statement of policy and the Office of the Quartet Representative looks forward to working closely with the Government of Israel and other partners on its implementation."
The White House also commended the policy, saying in a statement it will improve conditions for Palestinians in Gaza while preventing the entry of weapons.
"We will work with Israel, the Palestinian Authority, the Quartet and other international partners to ensure these arrangements are implemented as quickly and effectively as possible and to explore additional ways to improve the situation in Gaza, including greater freedom of movement and commerce between Gaza and the West Bank," the statement said. "There is more to be done, and the president looks forward to discussing this new policy, and additional steps, with Prime Minister Netanyahu during his visit to Washington on July 6."
"Over these coming months we therefore need: to improve life in Gaza; continue the growth in the West Bank and the PA development of its institutions for statehood; and ensure that the indirect talks, led by Senator Mitchell, turn into full direct negotiations," Blair said.
The White House said, "there is no need for unnecessary confrontations, and we call on all parties to act responsibly in meeting the needs of the people of Gaza."
Israel, the United States and Blair all called for the release of Gilad Shalit, an Israeli soldier who has been held in Gaza for nearly four years. "We will redouble our efforts to secure his freedom," Blair said.
Separately, Germany criticized Israeli officials for denying Dirk Niebel, German minister of economic cooperation and development, entry into Gaza.
"The goal of the federal government remains the complete end of the blockade Gaza Strip," German Foreign Minister Guido Westerwelle said in a Sunday statement. "That is not only Germany's stance but also that of our partners in the European Union."
Yigal Palmor, spokesman for the Israeli foreign ministry, said Neibel was not allowed to enter Gaza because "Hamas uses visits of this kind for purposes of manipulation and misrepresentation of international legitimacy and normal relations with the international community."
Israel's policy of denying high-ranking diplomats access to Gaza -- in place since last year's Israeli incursion into Gaza -- has angered European governments which finance various programs in Gaza. Israel made an exception earlier this year, when it allowed United Nations Secretary-General Ban Ki-moon and Baroness Catherine Ashton, EU foreign policy chief, to visit Gaza.
CNN's Guy Azriel, Kareem Khadder, and Ben Brumfield contributed to this report.
FOLLOW THIS TOPIC