Israeli soldier may face charges for Gaza shootings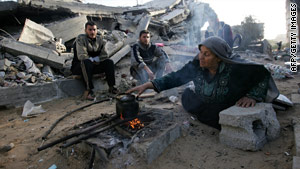 A Palestinian woman makes tea in front of buildings destroyed during Israel's "Cast Lead" operation.
STORY HIGHLIGHTS
Israeli soldier 'Staff Sergeant S.' could face charges in deaths of two Palestinians in January 2009
Ynetnews.Com: IDF's military advocate general is working on specifics of indictment
IDF: Soldier informed of his right to request a hearing before decision is rendered
Jerusalem (CNN) -- An Israeli soldier may face charges in the deaths of two Palestinian women in Gaza in January, 2009, according to an Israeli news report confirmed by the Israel Defense Forces.
The Israeli website ynetnews.com says the IDF's Military Advocate General Brig. Gen. Avichai Mendelblit is determining the specifics for an indictment against a "Staff Sergeant S." from the Givati brigade.
"Staff Sergeant S." allegedly broke the rules of engagement by opening fire at two Palestinian women during operation Cast Lead, Israel's incursion into Gaza in response to rocket attacks on Israel.
The IDF has released the following statement: "The findings of the Military Police Criminal Investigations Division investigation in question have been passed along to the Office of the Military Advocate General for its consideration. A decision about the continuation of the legal proceedings will be taken upon the conclusion of that process.
"In accordance with standard procedure, the soldier was informed of his right to request a hearing before a decision is rendered. Since no decision has yet been taken, we cannot provide additional information at the present time."
According to the Israeli human rights monitoring agency B'Tselem, a group of about 30 people including Riyeh Abu Hajaj, 64, and her daughter Majda Abu Hajaj, 37, were carrying and waving white flags when the two women were shot and killed on Jan. 4, 2009.
Details of the incident appear in the United Nations Human Rights Council's review on the conflict in Gaza, the Goldstone report, which Israel and its supporters have called "biased."
CNN's Guy Azriel contributed to this report
FOLLOW THIS TOPIC