Israeli minister cancels France trip amid Gaza probe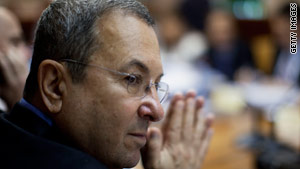 Israeli Defense Minister Ehud Barak attends the weekly cabinet meeting on June 13.
STORY HIGHLIGHTS
Ehud Barak cancels a trip to Paris to meet with French leaders
Retired Israeli judge Jacob Turkel to investigate the raid on an aid flotilla
NEW: Cabinet approves creation of "independent public commission"
Jerusalem (CNN) -- Israel's Cabinet on Monday unanimously backed the creation of an "independent public commission" to investigate the deadly raid on a Gaza-bound aid flotilla, the prime minister's office confirmed.
Israeli Defense Minister Ehud Barak had earlier canceled a trip to Paris to meet with French leaders as he awaited for the formal announcement of an investigation commission to be made.
On Sunday Israel said an independent commission led by retired Israeli judge Jacob Turkel would investigate the incident.
The Israeli Prime Minister's Office website said the team will also include "international law Prof. Shabtai Rosen, winner of the Israel Prize for jurisprudence and the Hague Prize for International Law; and former Technion President, Maj.-Gen. (ret.) Amos Horev."
Prime Minister Benjamin Netanyahu had asked the Israeli Cabinet to approve the special commission.
"The Commission will submit conclusions on the question of whether the actions that the state of Israel took to prevent the arrival of ships to Gaza and their goals, as well as other related matters, were in accordance with the rules of international law," the prime minister's website said.
Israeli commandos intercepted the flotilla at sea May 31 and stormed the largest vessel, the Turkish-flagged Mavi Marmara. At least nine people aboard the ship were killed. Several Israeli soldiers were injured.
CNN's Paul Colsey contributed to this story.
FOLLOW THIS TOPIC