Ahmadinejad defends disputed election one year after vote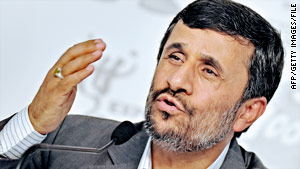 Ahmadinejad says the latest U.N. Security Council vote for sanctions on his regime shows U.S. influence is declining.
STORY HIGHLIGHTS
Election outcome was the result of "united and grand human will"
Those who opposed the vote were "governments of injustice," Iranian leader says
Ahmadinejad says U.N. Security Council has lost legitimacy
He predicts U.S. "world empire ... will gradually disintegrate"
Tehran, Iran (CNN) -- Iranian President Mahmoud Ahmadinejad defended last year's contested presidential election during a wide-ranging interview on state-run television Sunday, calling its outcome "the manifestation of the united and grand human will of 40 million people in a 100 percent free" vote.
Ahmadinejad spoke a day after the first anniversary of the election, which sparked widespread outrage within the Islamic republic and gave rise to the opposition Green Movement, whose leaders accused the hardline regime of stealing the election and staging a brutal crackdown on protesters.
"Those who opposed [the election] were governments of injustice who interfered in [our] internal affairs," Ahmadinejad said Sunday. "Even the American president, who was new to the scene, joined them. But the Iranian nation defeated them."
Large numbers of protesters took to the streets in defiance of Ahmadinejad's hard-line regime immediately after the election's outcome was announced, but Saturday's anniversary passed with only scattered clashes between opposition protesters and security forces.
"I think there are some people who are disheartened ... because of the brutality of the crackdown, friends who ended up in jail ... and just the government's ability to squash any protest whatsoever," Iranian-American author Hooman Majd told CNN's "Fareed Zakaria: GPS" on Sunday. "So that becomes an attitude of, 'Why bother? Why should I go out on the streets and demonstrate? I'm not going to get anywhere.'"

Video: Iranian refugees fight on

Video: 'For Neda' blocked in Iran
Ahmadinejad also brushed off the latest United Nations sanctions to be imposed on his regime, saying the U.N. Security Council no longer has "any legitimacy" and the United States -- one of the council's five permanent members -- continues to lose support among member nations.
"The council literally begged Turkey and Brazil to vote against Iran," he said of Wednesday's vote. "The shot hit the American world empire. This is indicated by the fact that the U.S. now has to beg other countries to vote against Iran, whereas in the past it used to strong-arm other nations to vote for what it wants. This empire will gradually disintegrate."
CNN's Shirzad Bozorgmehr contributed to this report.
FOLLOW THIS TOPIC