Another aid ship heads to Gaza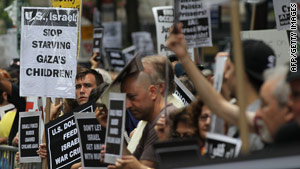 Demonstrators protest on Tuesday in New York City against the Israeli raid on an earlier aid flotilla bound for Gaza.
STORY HIGHLIGHTS
Aid ship bound for Gaza
Plans to arrive late Friday or early Saturday
Voyage comes after Israeli raid on Gaza aid flotilla
(CNN) -- The Rachel Corrie, a ship with aid bound for Gaza, is 100 miles south of Crete and is planning to arrive in Gaza late Friday or early Saturday, according to the Free Gaza Movement.
The boat, which left from Ireland, was carrying 550 tons of cement, educational materials, toys, and medical equipment. The group said the ship was inspected for weapons by customs officials and a senator from the Irish Green Party. No weapons were found.
Free Gaza activist Derek Graham said that once the boat reaches Gaza, it intends to unload the vessel and head back to Ireland. There are five Irish and six Malaysian people on the boat. The paid crew members include a Briton, a Cuban and six Filipinos.
The voyage comes after a Monday raid by Israeli forces on a six-ship aid flotilla bound for Gaza. Nine people were killed in the violence. The Free Gaza Movement was among groups organizing the flotilla.
The Rachel Corrie is named after an American peace activist killed in the Gaza Strip in 2003.
FOLLOW THIS TOPIC