Iranian opposition candidates call for renewed protests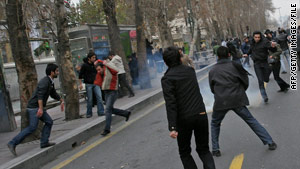 Demonstrators clash with Iranian security forces during a December rally in Tehran.
STORY HIGHLIGHTS
Opposition's Mir Hossein Moussavi, Mehdi Karrubi urge followers to demonstrate
Web site announcement pegs rallies to anniversary of disputed 2009 election
Former presidential candidates issue joint call after hour-long meeting
Dozens of demonstrators died after June 2009 vote; opposition says election stolen
Tehran, Iran (CNN) -- Iranian opposition leaders Mir Hossein Moussavi and Mehdi Karrubi called for demonstrations on June 12, the first anniversary of the disputed Iranian presidential election, Karrubi's Web site said Tuesday.
According to the article posted on Sahamnews.org, Moussavi and Karrubi met Monday in an hour-long session, where they discussed foreign policy, political prisoners, human rights and other incidents since last summer's election.
They asked opposition groups and reformist parties to apply for rally permits.
Iranian President Mahmoud Ahmadinejad's landslide re-election last year sparked the biggest protests in Iran since the 1979 revolution, and the two opposition leaders accuse the government of stealing the elections and staging a brutal crackdown.
iReport: Dispute over Iranian election
Human rights groups have said around 80 people were killed during Iran's 2009 post-election protests, while Iran's government puts the number at about half that figure. While Iran has charged prison officials with torturing to death some of those detained after the demonstrations, no one has been charged in any of the deaths during the protests.
In a recent video message commemorating the Persian New Year, Moussavi said the year that begins Saturday, 1389, on the Persian calendar, will be a "year of perseverance" for the opposition.
He urged his so-called Green Movement to "first think of spreading its wave to all strata of the society and all ethnic groups in all provinces and, at the same time, keep alive the eternal socio-Islamic responsibility."
"I believe that the way to our nation's greatness is through this path," he said, adding that the movement is not making any extraordinary demands. "All it wants is a proper election."