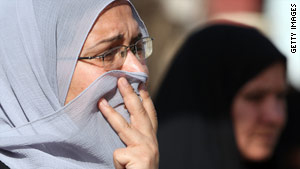 Mourners paid their last respects to victims of Friday's bombings in Baghdad.
STORY HIGHLIGHTS
Dozens of caskets taken to holy Shiite city of Najaf for preburial rituals
No one claims responsibility for Friday attacks, but authorities suspect al Qaeda in Iraq
Radical Shiite cleric Muqtada al-Sadr offers to help Iraqi government provide security
He asked Iraqis not to get drawn into "malicious American plots" to pull Iraqis back into fighting
Baghdad, Iraq (CNN) -- Shiites in Iraq on Saturday mourned the victims of Friday's bombings in Baghdad, a wave of attacks thought to be retaliation for the killings of two top militants.
The violence brought an offer from radical Shiite cleric Muqtada al-Sadr -- whose militia supporters fought Iraqi and U.S. forces during the war -- to help the Iraqi government provide safety for citizens.
Friday, bombers linked to al Qaeda in Iraq targeted Shiites across the teeming capital on the day of the week that Muslims customarily go to their mosques for prayers.
Dozens of caskets were brought to the holy Shiite city of Najaf south of Baghdad for Shiite preburial rituals. They were taken into the Imam Ali shrine to give the victims a traditional last visit before the bodies are buried.
Angry and sad relatives toted the caskets and chanted "No God but God " and "God is great."
Mourners paid their last respects to families of the victims in funeral tents across Baghdad, including the predominantly Shiite district of Sadr City where the deadliest of the attacks occurred. Car bombings killed at least 39 worshipers and wounded dozens more.
In all, police said, the strikes killed at least 55 people and wounded 124 others across the capital on Friday, prompting fears of a return of sectarian violence between Sunni and Shiite Muslims that once engulfed Baghdad.
Another bombing in the Anbar province town of Khaldiya on Friday left six people dead. Anbar is predominantly Sunni.
No one has claimed responsibility for the Baghdad attacks, but authorities believe such coordinated bombings bear the hallmarks of al Qaeda in Iraq, a predominantly Sunni group.
The bombings came days after Iraqi and U.S. officials announced they had killed the two most wanted al Qaeda in Iraq leaders, Abu Ayyub al-Masri and Abu Omar al-Baghdadi.
Iraqi Prime Minister Nuri al-Maliki called the bombings "cowardly terrorist attacks aimed to overshadow" the deaths Sunday of the two militants.
Al-Sadr -- an anti-American Shiite cleric with a political movement and a lot of grassroots support -- posted a statement on his website Saturday calling for restraint and offering help to security forces.
He asked Iraqis to not get drawn into what he described as the "malicious American plots" that want to pull Iraqis back into fighting, giving them an excuse to stay longer in Iraq.
"At the same time I offer my readiness to provide hundreds of believers ... to be official brigades in the Iraqi army and police so they can defend their shrines, mosques, prayers, markets, homes and cities in a way that saves face for the Iraqi government so it does not resort to the occupiers to protect its people and so Iraqis can live safely in their country," he said.
"If it refuses this, they are free to do so, but we will be fully ready to assist always."
Al-Sadr's Mehdi Army militia was blamed for much of the sectarian attacks on the Sunni population at the height of the violence in 2006 and 2007, and it was also involved in fierce fighting with Iraqi and U.S. forces in early 2008.
A freeze of the militia's activity by al-Sadr two years ago was credited as one of the main factors for the drop in violence across the country.
Sadrist politicians could be the kingmakers in Iraqi politics after last month's parliamentary elections, in which they fared well.
Al-Sadr has called for the formation of a "united Iraqi government that is non-sectarian, non-partisan and representative of all Iraqis far from the occupation, the Baath, terrorism and the militias."
The attacks came during the delay in the formation of a government, and many observers fear that a political vacuum could portend an increase in violence.
Al-Maliki, whose coalition lost the election by a hair to former Prime Minister Ayad Allawi's bloc, has called for a recount, and a court has granted it. But the Independent High Electoral Commission board of commissioners on Saturday asked the judiciary for a clarification of the decision, such as what ballots need to be recounted.