Former Jerusalem mayor arrested in corruption probe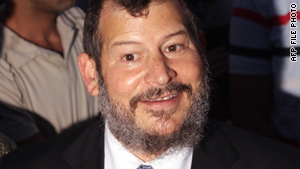 Uri Lupolianski, former mayor of Jerusalem, is shown in 2009.
STORY HIGHLIGHTS
Police: Ex-mayor of Jerusalem, Uri Lupolianksi, arrested on Wednesday
Investigation under way into allegedly corrupt real estate deals in Jerusalem
Six people were arrested last week in connection with investigation
Aide to former Prime Minister Ehud Olmert was one of arrests last week

Jerusalem (CNN) -- The former mayor of Jerusalem, Uri Lupolianski, was arrested Wednesday in connection with an investigation into allegedly corrupt real estate deals in Jerusalem, Israeli police said.
Former Israeli Prime Minister Ehud Olmert is cutting short a trip to Europe and is returning to Israel in light of the investigation, said his spokesman Amir Dan.
An aide of Olmert's was arrested last week in connection with the investigation, which stems from a project approved when Olmert was mayor of Jerusalem.
Olmert himself was forced out of the prime minister's office due to corruption charges.
Police are investigating allegations of bribery connected with a large-scale residential housing project in Jerusalem called the Holyland project, among other multimillion-dollar real estate developments.
Six people were arrested last week in connection with the scandal, including Olmert aide Uri Messer.
Lupolianski can be held for five days, police said.
Olmert is returning to Israel Wednesday, his spokesman said.
The former prime minister denied any connection to the scandal and will cooperate with the investigation, Dan said in a statement.
"We have all seen how grandiose headlines at the beginning of an investigation change form one end to another after awhile when the real facts come into life," Dan said.
Olmert went on trial on separate corruption charges in September.
He said then that he was innocent.
"For the past three years, I have been subject to an almost inhumane system of smearing and investigations, and have naturally paid a heavy price for this period of time," Olmert said in a prepared statement.
Olmert was indicted on a variety of corruption charges in an investigation that dogged his last months in office.
Olmert announced his resignation in September 2008, after the corruption investigation deepened, and left office after a new government took power in March 2009.
Prosecutors accuse Olmert of double-billing government agencies for travel, taking cash from an American businessman in exchange for official favors and acting on behalf of his former law partner's clients.
That trial continues.
CNN's Michal Zippori and Kevin Flower contributed to this report.