STORY HIGHLIGHTS
Desert treks are becoming increasingly popular in places like Tunisia
Some tourists trek for up to a month on foot and on camel
"People who have tired of civilization come here to the Sahara," said a veteran guide
Douz, Tunisia (CNN) -- Spending two weeks trekking through a desert without any creature comforts isn't everyone's idea of a vacation, but for some, it's paradise.
Despite the hardship involved, this kind of adventure tourism is becoming increasingly popular in places like Tunisia, with some tourists desert trekking for up to a month on foot and on camel.
Douz, in Central Tunisia, is known as the gateway to the Sahara. From here a group of French tourists is embarking on a 14-day journey through the Sahara desert, accompanied and assisted by fully laden camels.
They are seasoned walkers: At the head of the pack is retired insurance agent Joelle Fuyatier, who lives in the French Alps.

Video: Backstory - trekking the Sahara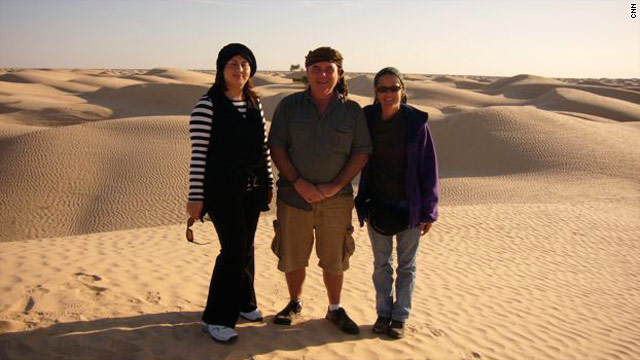 Gallery: Camel trekking in Tunisia
"For me, it's a new experience," she told CNN. "I'm used to the high mountains, but I've heard so much about Tunisia, so I thought to go for a change and see what it was like in the desert."
This is the ultimate no-frills holiday. There's plenty of sand and sun, but the sea, and a hot shower, are nowhere in sight.
In the desert there's no housekeeping and no room service. You set up your own tent, and you do your own washing up -- soap and water not included.
Water may be in short supply in the desert, but there's no shortage of sand. So, instead of using soap and water, dirty bowls are cleaned by scraping them with sand, and then wiping with a napkin.
Bread is baked daily by camel driver Abulhassan who mixes the dough. It's nothing fancy -- just flour, water and salt. It's placed in a bed of hot coals in the sand and 20 minutes later the bread is ready.
While some might balk at the lack of modern facilities, for others, it's the whole point. The Sahara is the ideal getaway, according to veteran desert guide Muhammad Bensaad.
"People who have tired of civilization come here to the Sahara, to get away and forget pressures and stress," he told CNN. "Here there is calm, there is nature."
Gym teacher Marie-Paul Lugez agreed. "I adore the desert," she told CNN. "It's a change of pace. There's no hustle and bustle, no cars. It's a rest for the body and the soul."
At the end of each day, tea is brewed over the fire. Dinner is simple, and song and dance by firelight the only entertainment. These people aren't looking for more.
"I love to walk and I love the desert," said truck driver Patrick Bertholio. "I would recommend Tunisia to anyone.
"The scenery is magnificent. Whoever loves the sand will be happy to see the sea of sand, the sea of dunes."