Vigils to be held for U.S. hikers detained in Iran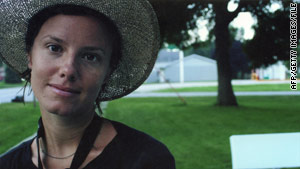 Sarah Shourd, pictured in an undated family photo, is one of three American hikers detained in Iran since July.
STORY HIGHLIGHTS
Families of three detained U.S. hikers call on Iran to release them

Josh Fattal, Shane Bauer and Sarah Shourd accidentally crossed border into Iran, families say

Iran says three hikers are being held on espionage charges

(CNN) -- Friends and supporters of three American hikers detained in Iran plan to hold vigils in various cities across the United States on Sunday to call for their release.
Josh Fattal, Shane Bauer and Sarah Shourd were detained on July 3.
Their families said they accidentally strayed across an unmarked border into Iran while on a hiking trip in Iraq's Kurdistan region. They are being held on espionage charges.
Vigil organizers say that supporters will gather in 11 cities Sunday: The Cheltenham/Philadelphia area in Pennsylvania; Shakopee and Pine City in Minnesota; Berkeley and Los Angeles in California; Boston and Worcester in Massachusetts; Seattle, Washington; Cottage Grove, Oregon; Brooklyn, New York; and Cape Town, South Africa.
"Shane, Sarah and Josh have now been held for 254 days," says a statement by their families that is expected to be read at the vigil. "The Iranian authorities seem to be trying to make it appear that they had some ridiculous motive for entering Iran when it is abundantly obvious that if they did cross onto Iranian territory, they had no intention of doing so."
On March 9, the three hikers spoke to relatives for the first time since they were jailed.
"When Shane, Sarah and Josh finally were allowed to call home, they all wanted to know why their case is taking so long to resolve," the family statement says. "We had no good answers and Iran does not have a good answer either."
Iranian Foreign Minister Manouchehr Mottaki has told the country's semi-official Fars News Agency that the country plans to put the hikers on trial.
The United States has appealed to Iranian leaders to release the three as soon as possible, Secretary of State Hillary Clinton has said.
The hikers' families said they have submitted a petition with more than 10,000 signatures to the Iranian Mission to the United Nations asking for their release.
Bauer and Fattal, both 27, are being held in the same cell in a Tehran prison; Shourd is in a cell there by herself but can visit the other two every day, the families said earlier.
Their mothers have applied for visas to travel to Iran to visit them in prison, but they have not yet learned whether they will be able to do that.
"We ask Iran to stop playing with our emotions," the message continues. "The fear and uncertainty is taking a terrible toll on us and we can only imagine the terrible strain on our loved ones.
"Every night, we go to bed hoping that Iran has finally accepted that our loved ones are innocent and decided to allow them to return to us, but we wake up and the nightmare continues."