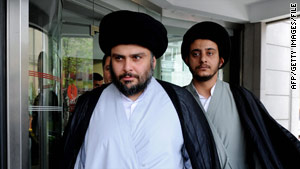 Muqtada al-Sadr, seen in Istanbul, Turkey, in May, is back in the spotlight in Iraqi politics.
STORY HIGHLIGHTS
Muqtada al-Sadr has refused to back top vote-getters in Iraq's March 7 election
Al-Sadr calls on his followers to indicate their choice for prime minister in referendum
They'll choose among Ayad Allawi, Nuri al-Maliki, and three other candidates
Both Allawi and al-Maliki are trying to put together coalitions to gain majority
Baghdad, Iraq (CNN) -- Muqtada al-Sadr, the firebrand cleric with a loyal following among the Shiite population in Iraq, could play a major role in the formation of a new national government.
Al-Sadr has refused to back the top vote-getters in the March 7 election and is asking his followers to designate a prime minister of their choosing in a referendum this weekend.
This is the latest political jockeying in the aftermath of the election for the 325-member parliament.
International observers, such as the United Nations and the United States, have said they were pleased with the process. They are hoping that disagreements will be settled amicably with no backsliding into instability that could affect the planned withdrawal of U.S. combat troops at the end of August and of all American troops at the end of next year.
The U.N. Security Council on Thursday welcomed the provisional results, looked forward to their certification by the Supreme Court, and urged all political entities "to respect the certified election results and the choices of the Iraqi people."
The Iraqiya bloc of Ayad Allawi won 91 seats, a razor-thin victory over the State of the Law coalition of Prime Minister Nuri al-Maliki, which gained 89 seats, according to the provisional results.
At least 163 seats are needed to form a government. As the top vote-getters, Allawi's and al-Maliki's blocs are both working to form coalition governments and are reaching out to entities like al-Sadr's group.

Video: Ayad Allawi on Iraq's future

Video: Tense moments in Baghdad

Video: Embracing secularism in Iraq
Al-Sadr's party, which gained at least 39 seats in the voting, is part of the Iraqi National Alliance, the Shiite bloc that received 70 seats.
Al-Sadr is holding a referendum at various locations on Friday and Saturday on the prime minister question. Al-Maliki, Allawi and three other names will be presented. The results of the referendum could be a factor in determining whether al-Sadr's faction and/or the Iraqi National Alliance back Allawi or al-Maliki.
Meanwhile, al-Maliki has disputed the election results and is calling for a manual recount. But at the same time his and Allawi's blocs are communicating with each other and with other blocs in an effort to form a government.
Along with the Iraqi National Alliance, the Kurdistania bloc, made up of the two top Kurdish parties, is a factor in the coalition process with 43 seats.
Allawi, a secularist with a Shiite background and a former interim prime minister, faces a number of challenges.
He said Wednesday he is concerned that Iran is interfering in his country's post-election politics. He said Iran invited representatives of Iraqi political groups to that country but shunned his Iraqiya list, despite the fact that it gained the most seats.
"This really caused a bit of concern," he told CNN. He regards relations with Iran as very important and wants to send a delegation to that nation to discuss problems they may have had with him.
Allawi also told CNN that he heard a government panel called the Accountability and Justice Commission is seeking to bar several Iraqiya candidates because of their alleged past ties with the outlawed Baath Party, the Sunni-dominated movement that ruled Iraq under Saddam Hussein. Several politicians, both Shiite and Sunni, already had been barred from the elections because of such alleged links.
"We believe that this is really a political game. It is not really a de-Baathfication issue. I think it is an attempt to discredit us and discredit other groups who are supporters of us," Allawi said.
"I think this is not going to cause any problem for us except it is a matter of trying to degrade our capability and smear us with things which are not true, and create the psychological intimidation, if you like. But we don't think it will work."
Allawi has said the government has engaged in an intimidation campaign against his list.
In Diyala province, Iraqi security forces arrested Najam al-Harbi, a member of the Iraqiya bloc and a former mayor of Baquba, two days before the elections. It is unclear why he was seized.
A few days after the elections, the government issued arresting warrants against two members of the Iraqiya bloc. They are Mohammed Othman, who served as mayor of Saadiya, and Raad al-Dahalki, who served as the chairman of the Baquba city council. Authorities did not say why the warrants were issued.
Ali al-Lami, an Accountability and Justice Commission official, said Monday that after the names of the winning candidates were reviewed, six of them were believed to have ties to the banned Baath party. He said an appeal will be made to prevent those candidates from getting into parliament.
Al-Lami said one of them had been arrested but didn't give the name or the party. Iraqiya later said he had been referring to Najam al-Harbi.
The U.N. special representative in Iraq, Ad Melkert, said the United Nations in February declared that the accountability panel is "perfectly legitimate" and "it is the Iraqi choice to draw a line under the responsibility of the people under the Saddam regime."
He added, "There many parallels in the other countries in the past as well, but the process has had some flaws and we were concerned by that. We have expressed those concerns" but in the end the Iraqis must make the ultimate decision.