Obama renews call for Iran dialogue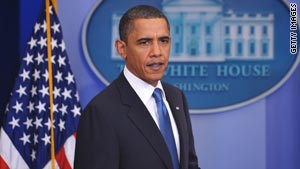 President Obama says he remains open to having a dialogue with Iran.
STORY HIGHLIGHTS
President Obama, in video message, pledges commitment to "hopeful future" with Iran

Obama calls for more study programs for Iranians, greater Internet access

Obama's call for dialogue comes amid talk of sanctions over Iran's nuclear ambitions

(CNN) -- President Obama reiterated his offer of dialogue with Tehran in a message on Saturday to mark the beginning of the Iranian new year.
The online video, subtitled in Farsi, was timed to coincide with Nooroz, a festival celebrating the Persian new year. It pledged the administration's commitment to a more hopeful future for Iran.
"I want the Iranian people to know what my country stands for," Obama said in the message. "The United States believes in the dignity of every human being, and an international order that bends the arc of history in the direction of justice -- a future where Iranians can exercise their rights, to participate fully in the global economy, and enrich the world through educational and cultural exchanges beyond Iran's borders."
Obama said though Iran has "chosen to isolate itself, " he is open to dialogue.

Video: Rate Obama on foreign policy
"That is why, even as we continue to have differences with the Iranian government, we will sustain our commitment to a more hopeful future for the Iranian people," he said.
Part of the help will include more opportunities for young Iranians to take part in study programs, Obama said. He also said the United States would work to ensure Iranians had Internet access without fear of censorship.
Last year, opposition members used social networking sites such as Twitter and Facebook to get the word out on post-election violence after disputed presidential results.
Tehran has had frosty relations with the United States since the Islamic revolution in 1979, but Obama has pledged new beginnings with the Muslim world in the past. His message is the second since he became president, a dramatic shift in tone from that of the previous administration.
Former President Bush included Iran, along with North Korea and Iraq, in an "axis of evil."
Obama's message comes as international allies call for sanctions on Iran over its nuclear program, which they say will be used for weapons. Iran has maintained the program is for peaceful energy purposes.
"We are working with the international community to hold the Iranian government accountable because they refuse to live up to their international obligations," he said. "But our offer of comprehensive diplomatic contacts and dialogue stands."
There was no immediate response from President Mahmoud Ahmadinejad to Obama's message.