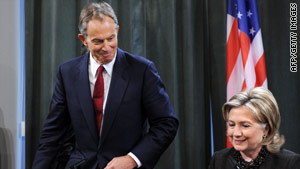 U.N. Middle East envoy Tony Blair takes his place next to Secretary of State Hillary Clinton on Friday in Moscow.
STORY HIGHLIGHTS
Israel "defying whole international community," Palestinian negotiator says
Israeli foreign minister: "You can't force peace in an artificial way"
2,500 police deployed to to maintain calm in Jerusalem
Middle East Quartet calls for final settlement within two years
Moscow, Russia (CNN) -- Israel refuses to reverse its decision to build new homes in largely Arab East Jerusalem, but it is offering measures to kick-start the peace process, Middle East envoy Tony Blair told CNN on Friday.
Blair's comments came after a meeting in Moscow of the Middle East Quartet, which called for Israel and the Palestinians to have direct negotiations and reach a final settlement within two years.
Israeli Prime Minister Benjamin Netanyahu pledged a package of moves to boost confidence and get the peace process back on track, Blair said. Those measures include steps to improve the humanitarian situation in Gaza, Blair said, but he did not specify whether the steps included prisoner releases.
Complex negotiations about the proposal are now taking place, Blair said.
Blair, the former British prime minister, is the representative of the Quartet, the four international entities seeking peace in the region. The four members of the Quartet are the United States, Russia, the European Union, and the United Nations.
Blair said he is certain that Israel genuinely wants a workable peace deal with the Palestinians, but that it is also important for Palestinians to know they would have a viable independent state.
Israel's recent announcement that it plans to build some 1,600 housing units in a disputed part of East Jerusalem has sparked protests and strained the U.S. relationship with Israel, though U.S. Secretary of State Hillary Clinton said Friday the relationship is "deep and broad" as well as "strong and enduring."
U.N. Secretary-General Ban Ki-moon said Friday the Quartet condemns Israel's construction plans.

Video: Mideast peace process talks

Video: Unrest in East Jerusalem
The Quartet also called on Israel and the Palestinians to return to direct, bilateral negotiations and come up with a final settlement and creation of a Palestinian state within 24 months.
"Arab-Israeli peace and the establishment of a peaceful state of Palestine in the West Bank and Gaza is in the fundamental interests of the parties, of all states in the region, and of the international community," Ban said. "In this regard, the Quartet calls on all states to support dialogue between the parties."
Chief Palestinian negotiator Saeb Erakat said he welcomed the Quartet's statement and hoped it could be translated into action.
"I think it's really more than words," he told CNN, "because this is coming at a time when the international community is at its feet now as regards Israeli settlement activity and Netanyahu is still being defiant. Netanyahu is defying the whole international community now and he 's insisting to continue settlement activity, and he's telling the world, 'Look, I'm going to fool you -- I'm not going to announce any tenders anymore, but I am going to continue with settlements.'"
But Avigdor Lieberman, the Israeli minister of foreign affairs, indicated resistance to the 24-month plan.
"You can't force peace in an artificial way with an unrealistic timetable," he said on a visit Friday to Brussels, Belgium. "Statements like this only distance a true settlement between Israel and the Palestinians."
Israel and the Palestinians were supposed to hold indirect "proximity talks" with former U.S. Sen. George Mitchell, the Obama administration's special envoy to the Middle East. But two days after those talks were announced, Israel revealed its plan to build the 1,600 units in East Jerusalem, and that put the entire process on hold.
The Quartet members strongly encouraged Arab countries to support the proximity talks, which are seen as a step toward direct negotiations.
"We are all committed to the launching of proximity talks between the Israelis and the Palestinians," said Clinton. "Senator Mitchell, who was here for the meeting, will be going to brief more of our European allies and then will be in the region to speak with both the Israelis and Palestinians. He expects to meet with Prime Minister Netanyahu before the prime minister leaves for the U.S."
Erakat told CNN it would be "very difficult" to hold any negotiations -- including proximity talks -- unless Israel rescinds its plan to build in East Jerusalem.
Lieberman said Israel, for its part, is ready to negotiate.
"The Palestinian side makes the wrong impression by dragging its feet by refusing to negotiate," he said. "Direct negotiations, and not raising complaints, will bring them to the goal."
Tensions in East Jerusalem and parts of the West Bank were high Friday. Sporadic clashes between Palestinians and Israeli security forces took place in a number of East Jerusalem neighborhoods and in the West Bank city of Hebron.
Micky Rosenfeld, a spokesman for the Israeli police, said 2,500 police had been deployed around Jerusalem to maintain calm. He also said male Muslim worshippers younger than 50 were not being allowed to attend Friday prayers at Al-Aqsa mosque, one of the city's holiest sites.
Clinton said she expects to meet with Netanyahu during his trip to Washington, which begins Sunday.
Mitchell and Ban, who plans to visit Gaza on Sunday, "will convey the position of the Quartet in a most clear way" to the two sides, Russian Foreign Minister Sergey Lavrov said.
"We underscore that the circumstances conducive to an agreement about proximity talks should be respected," Lavrov said. "This is clear language."
Mitchell and Ban, who plans to visit Gaza on Sunday, "will convey the position of the Quartet in a most clear way" to the two sides, Lavrov said.
Ban said his visit will be to assess the humanitarian situation in Gaza, something Quartet members said they are deeply concerned about. They called for a solution that addresses Israel's security concerns while also allowing humanitarian aid, commercial goods, and people to enter the seaside territory.
The Israeli military conducted airstrikes on six sites in Gaza late Thursday in what it said was retaliation for attacks by Palestinian militants. Israel said a Thai worker was killed when a rocket fired from Gaza landed inside southern Israel.
The military said it targeted tunnels used for smuggling and terrorist activity, and a weapons manufacturing site.
The Quartet condemned the rocket attacks from Gaza and called for an immediate end to violence.
They also urged the immediate release of Israeli soldier Gilad Shalit, who has been held by Palestinian militants in Gaza since June 2006.
CNN's Matthew Chance and Kevin Flower contributed to this report.