Prime minister's alliance leading after Iraq election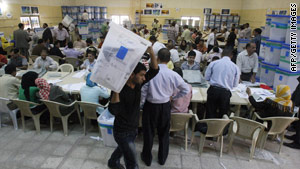 Staffers count ballots in Baghdad, Iraq, on Sunday.
STORY HIGHLIGHTS
Early and partial results show Nuri al-Maliki's State of Law alliance in the lead
Officials plan to announce results from 60 percent of voters on Monday
Final certified vote results expected at the end of the month
Baghdad, Iraq (CNN) -- Iraqi Prime Minister Nuri al-Maliki's alliance took the lead Sunday after partial preliminary election results showed his group ahead in seven provinces, according to the electoral commission.
All of Iraq's 18 provinces have announced early results, but they vary on the percentage of votes counted. On Monday, at least 60 percent of votes in all provinces will be tallied and partial results from all will be announced, Independent High Electoral Commission spokesman and commissioner Qassim Aboodi told reporters Sunday.
Al-Maliki's State of Law alliance led in six southern Iraqi provinces and in Baghdad, where the most parliamentary seats -- 68 out of 325 -- are up for grabs, according to the electoral commission.
Trailing State of Law with the lead in five provinces was al-Iraqia, a coalition led by former interim Prime Minister Ayad Allawi, a secular Shiite. Al-Iraqia's Shiite lineup has gained popularity and showed a strong following in predominantly Sunni areas.
The predominantly Shiite Iraqi National Alliance was ahead in three provinces, according to the electoral commission. The coalition, which is backed by the country's predominantly Shiite neighbor, Iran, includes controversial secular politician Ahmed Chalabi. It is made up of some of Iraq's top Shiite religious parties and includes followers of anti-American radical cleric Muqtada al-Sadr.
The Kurdistan Alliance, comprised of the two dominating Kurdish parties in the semi-autonomous northern region, was on top in all three of the provinces that make up the region, according to the commission.
All of the results Sunday were preliminary.
Final results, which need to be certified by Iraq's Supreme Federal Court, are expected to be released at the end of the month.
Last week, the INA and Allawi's al-Iraqia both charged there had been vote fraud.
They asked election officials to publish results from every voting center across the country. The Independent High Electoral Commission told CNN they would be publishing those tally sheets on their Web site, though it wasn't clear when that would happen.
Election officials had originally said they would release early province-by province-results only when 30 percent of the votes had been counted in each province. But by Thursday evening, under pressure from political blocs, they announced returns from three provinces that had not reached that threshold.
Millions of Iraqis defied the threat of violence March 7 to cast ballots in the parliamentary elections. Nearly two out of three eligible voters turned out. Some 38 people were killed in attacks on voting day.
About 6,200 candidates from more than 80 political entities are vying for 325 seats in the Council of Representatives, Iraq's parliament.
The political coalition that ends up with the most number of seats in parliament will put forward a candidate for prime minister.
CNN's Mohammed Tawfeeq and Jomana Karadsheh contributed to this report.